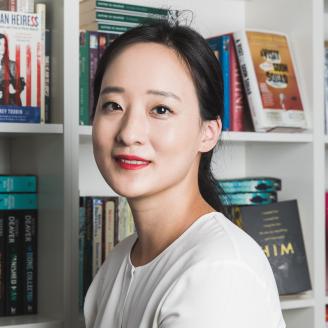 I joined Curtis Brown in Spring 2015 to work with Jonny Geller on his incredible list of fiction and non-fiction.
I'm originally from the U.S.; I studied English literature at New York University. After graduating, I took a detour in corporate law and decided to move to Asia. I lived in Hong Kong for several years and received a J.D. from the University of Hong Kong. I spent a year at a lobbying firm in Washington D.C. before realizing that I would rather lobby for something I believed in and moved to the book world.
I worked as a literary assistant and Contracts Manager for Folio Literary Management in New York and then moved to London.
I'm currently building my own list of fiction and non-fiction. I'm particularly looking to work with debut novelists.
I'm drawn to atmospheric settings and great storytelling. I love books that transport you – I enjoy stories with magical realism and speculative elements (time travel or high concept). My dream is to find a novel like The Night Circus. I'm drawn to historical fiction, and I also enjoy science fiction and fantasy (Robin Hobb, Justin Cronin, Claire North). I would love to find novels that transcend genre, like Kazuo Ishiguro, David Mitchell or Margaret Atwood.
I look for novels with strong characters - characters that live beyond their stories. Some of my favourite authors include Chimamanda Adichie, Min Jin Lee, Elizabeth Strout, and Ann Patchett.

I love novels with an emotional, powerful story - I always remember a book that makes me cry. Books like: The Book Thief by Markus Zuzak, The History of Love by Nicole Krauss, A Fine Balance by Rohinton Mistry, The God of Small Things by Arundhati Roy.
In terms of non-fiction, I am looking for science, lifestyle titles and narrative memoir.
If you would like to submit to me, you can go to the submissions portal or email catherine.cho@curtisbrown.co.uk with a cover letter, synopsis, and the first 10,000 words in the body of the email.