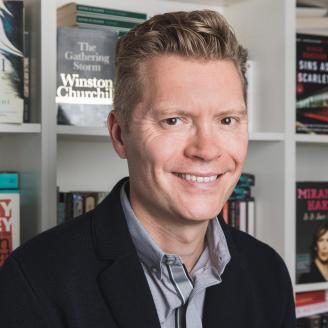 My tastes and expertise in non-fiction embraces history and biography, entertainment and the world of ideas. In the worlds of fiction, I focus on two strands: literary writers whose storytelling crosses over to reach beyond just the 'literary' reader; and both new and established terrific writers who happen to write crime.

To read more about what I am up to at the moment, read my blog at Curtis Brown Creative, and our submissions portal tells you what I am looking for right now and how to send it to me. I've got a reputation as a trusted collaborator, a developer of original ideas, an agent with an eye for reinvention and brand management, and a gift for editor-writer matchmaking.

I joined Curtis Brown in 2005, but began working in the book industry in 1989 as a bookseller when I was a student. In between I was for nearly fifteen years an editor and, later, publishing director, at companies including Pan Macmillan and John Murray/Hachette. On the industry side of things, I've been Agent of the Year at the British Book Industry Awards, President of the Association of Authors' Agents, and featured in the Bookseller magazine's list of the 100 most influential people in the publishing trade. A Guardian interview, 'How do I become a ... literary agent', explains the way in which I approach my work.

The catalogues on my profile page feature clients whose work represents the range of my current activities.

I am assisted by Niall Harman.

Amazing detective work by @authordlewis: Hitler's Commando Order led to 300 secret agent and soldier deaths, SAS pa… https://t.co/shG7zTT4sr
Follow @gordonwise