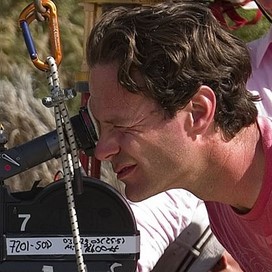 Alex


Holmes

Writer and director for film, television and feature documentary.
Alex Holmes is a multi-award winning director, writer and producer. Most recently Alex has directed Paula, developed by Cuba Pictures for BBC2 and starring Denise Gough. Previously, Alex directed Channel 4's Coalition, written by James Graham, which won Best Single Drama at the 2016 RTS Awards.
Alex also co-wrote and directed the Emmy and BAFTA nominated House of Saddam, a four part drama series for HBO and the BBC set in the inner circle of Saddam Hussein; and Dunkirk, a three part mini-series for the BBC about the evacuation of allied troops from Europe in 1940 which won Alex his first BAFTA as a director.
Other recent directing credits include work on the first series of Dominion, a science fiction series for Universal Studios starring Chris Egan and Roxanne McKee, and on the first series of the rebooted Strikeback produced by Left Bank Pictures for SKY and Cinemax.
His writing includes feature films The Killer, for Taken director Pierre Morel and StudioCanal, and the thriller Ex-Pats for Sandra Bullock and CBS Films, as well as an adaptation of the bestselling period novel Interpretation of Murder for Warner Brothers and producer Paula Weinstein.
Alex is currently working on a film for Producers Megan Ellison and Mark Boal about Russian President Vladimir Putin and is developing a TV pilot for Fox set in the world of international gambling syndicates.
Alex's most recent feature documentary was Stop at Nothing, which he made for Oscar winning producers Passion Pictures and ABC Australia. The story of Lance Armstrong's Faustian pact with performance enhancing drugs was described as Variety as "riveting and devastating".
He is currently directing The Letter for the King, a new Netflix show produced by Film Wave.

Film
Writer & Director & Producer
Maiden
BAFTA nomination for Oustanding Debut by British Director
Producer
Victoria Gregory
Writer & Director
Producer
Jessica Ludgrove, John Battsek (Exec. producer)
Produced with Oscar winning producers Passion Pictures (One Day in September) and ABC Australia. Stop at Nothing explores Lance Armstrong's Faustian pact with performance enhancing drugs and examines how the attempt to keep his secret from the world destroyed long-standing friendships, the faith of millions of supporters, and ultimately, the man himself.
Writer
First three years of Putin's Presidency
Annapurna Productions
In development
Producer
Andrew Rona, Pierre Morel, Renee Tab, Chris Tuffin
A veteran assassin becomes the target when he is hired by a rogue CIA outfit.
Studio Canal
The Picture Company and Sentient Entertainment
Producer
Michael Shamberg, Pierre-Ange La Pogam
A young American on vacation in Europe falls in love with handsome stranger, only to find he is not the man she thought. On the run from government agents and European gangsters, she's forced to trust the man who betrayed her.
Double Feature and Stone Angels
Producer
Maria Faillace, Joel Silver
A CIA agent's attempts to re-invent herself in the expat community of a European capital are derailed when her past catches up with her.
Set against the backdrop of Sigmund Freud's only visit to the United States in 1909 the film tells the story of a detective who uncovers a trail of sadistic murders concealed beneath the surface of New York's high-society and is forced to confront the darkest recesses of the human mind. An adaptation of best-selling book by Jed Rubenfeld.
Warner Brothers
In development
Florida, 1986. An undercover agent goes deep undercover to expose the powerful men behind the international drugs trade. Adaptation of the book by Robert Mazur
Hermitage Capital Management
In development