book
| Fiction
| Apr 2021
World →
Penguin Random House
(Ed. Kirsty Dunseath)
Set in a claustrophobic and remote town in Colorado, Tall Bones is a shattering crime novel that explores a fractured community after the disappearance of a teenage girl.

When 17-year-old Abigail disappears her best friend Emma, compelled by the guilt of leaving her alone, sets out to find the truth. But as the details of that night unfold, the festering secrets and resentment of both Abigail's family and the townspeople begin to surface with devastating consequences.

A literary page-turner, it is for fans of Celeste Ng and Jane Harper.

Rights
Transworld Publishers manages the translation rights for Tall Bones
Film Rights
Available
Contact Luke Speed for more information
Media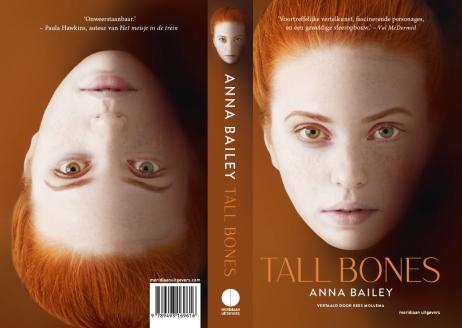 Reviews
Peels back the layers of cruelty, prejudice and suffering that lie beneath the surface of an ordinary, God-fearing community.
Daily Mail
Bailey has penned a dark and compulsive literary crime-drama about love, guilt, trauma, intolerance and the consequences of religious devotion. It's an incredibly haunting book but a brilliant one too.

Best Books of 2021
Culturefly
[A] compulsive literary crime-drama about love, hate, guilt, intolerance and the consequences of religious devotion. It's a book that will stay with you.

CultureFly
Both menacing and haunting, it is a memorable debut.
Geoffrey Wansell
Daily Mail
Simmering resentments and long-held prejudices boil over in this beautifully realised evocation of small-town America. In Anna Bailey's deft hands, brutal events are drawn so tenderly that your heart will break. I loved it.

Kate Riordan, author of The Heatwave
[T]his debut … heralds the arrival of a major novelist

The Tablet
A mix of the Salem witch trials meets Gone Girl, this is an eerie, timeless slow burn of a book that's worth sticking with for the almost apocalyptic ending that will haunt you for weeks afterwards.
Woman's Own
A nuanced thriller that will haunt you long after you race through its pages, Tall Bones is a novel you'll be itching for your friends to read, just so you can discuss it.
Grazia
Tall Bones brilliantly conjures up the oppressive claustrophobia of the small town and I felt so strongly about some of the characters that I had to check the ending to make sure they were ok! Extremely well written... fantastic.

Harriet Tyce, author of Blood Orange
With Tall Bones, Anna Bailey bursts onto the scene with a wonderfully haunting debut. Small-town intrigue, exquisitely drawn.

Jane Harper, best-selling author of The Dry
An intricate and compelling thriller, beautifully nuanced and wonderfully claustrophobic. Brilliant.

S J Watson, best-selling author of Before I Go To Sleep
Anna Bailey's debut is irresistible, a compelling and nuanced psychological thriller suffused with small town prejudice and dark family secrets.

Paula Hawkins, best-selling author of The Girl on the Train
Tall Bones is as atmospheric as it gets - a stunning debut that delivers on every level. Reminded me a little of Jane Harper's The Dry.

Renee Knight, author of Disclaimer
Smart and compassionate, full of poetry and rage and shy hopes and shredded dreams and missing girls and family secrets and the dark, shameful underbelly of small town life.

Tammy Cohen, author of Stop at Nothing
A terrific debut about guilt, secrets and complex family dynamics - the writing is vivid & assured: Anna Bailey is definitely one to watch.

Lucy Atkins, author of Magpie Lane
Brilliant! Could not put it down. It's utterly gripping and beautifully written.

Katie Fforde, author of A French Affair
Both menacing and haunting, it is a compelling and atmospheric debut.

Daily Mail
An elegant, mesmerizing debut—Anna Bailey explores festering secrets and family trauma with a sharp, yet tender gaze. This book reads like a whisper in the dark.

Danya Kukafka, author of Girl in Snow
Fast-paced and moving.

Literary Review
Gripping and so beautifully written Tall Bones is spellbinding; dark and menacing, but also so full of love and hope. I loved it. I cried.

Cressida McLaughlin, author of The Cornish Cream Tea Bus
This is a striking first novel, a chilling insight into an oppressive world, where bad thoughts and bad deeds ripple just below the surface, out of sight.

Alison Flood
The Observer
Beautifully written and very moving, this is an assured debut.

Books of the Month
The Guardian
One of the most exciting debuts of the year
OK! Magazine
This spellbinding and darkly beautiful novel... intricately plotted and exquisitely written,Tall Bones is a stunning debut.

Woman & Home
An absolute sizzler...When I'd finished the book, I immediately re-read it, admiring even more, on a second read, the deft way in which Bailey unfolds this post-Trump American tale...An almost Faulknerian masterclass in narrative by this star writer under thirty


A N Wilson
The Tablet
Cleverly written, Anna Bailey's debut shines a light on the darker and more oppressive side of small-town society.
The Independent
Bristol-born Bailey, just 24, writes with perfect poise. She is destined for great things - I feel it in my bones.
Rose Shepherd
Saga Magazine
Cleverly written, Anna Bailey's debut shines a light on the darker and more oppressive side of small-town society.
Press Association
One of the most exciting debuts of the year...
Sunday Express
A clever, twisting debut, about the dark side of small town America. It is packed with secrets like firecrackers ready to ignite.

Francine Toon, author of Pine
Anna Bailey writes like a dream about teenage love and lust, the terror of knowledge and the claustrophobia of families and of small towns...Tall Bones is as brutal, as bittersweet, as tender and as tense as first love itself.


Emma Flint, author of Little Death
Bailey orchestrates with fine, meticulous touches all too reminiscent of so much that is wrong with closed societies. Bleak and haunting, Emma's troubled path to where the truth lies will carry the reader's soul along in both moving and compassionate ways.

CrimeTime Online
[A] suspenseful whodunit told in vivid, sensory prose… Bailey successfully renders character archetypes in three-dimensional nuance… the simmering tension keeps the pages turning in this slow burn of a story.

Publishers Weekly
[Tall Bones] has an almost Gothic feel, shining a light on the oppressive side of small-town society.
i Newspaper
Chilling and compulsive. Tall Bones is a dazzling debut

Kate Hamer, author of The Girl in the Red Coat
[A] stunning suspense novel - perfect for fans of Megan Miranda and Celeste Ng.
Library Journal