book
| Fiction
| 2011
US & Canada →
HarperCollins
Publishers Weekly Book of the Year

School Library Journal Book of the Year

Junior Library Guild selection

Indie Next pick

Amazon.com Book of the Year

Once upon a time, Hazel and Jack were best friends. They had been best friends since they were six, spending hot Minneapolis summers and cold Minneapolis winters together, dreaming of Hogwarts and Oz, superheroes and baseball. Now that they were eleven, it was weird for a boy and a girl to be best friends. But they couldn't help it - Hazel and Jack fit, in that way you only read about in books. And they didn't fit anywhere else.

And then, one day, it was over. Jack just stopped talking to Hazel. And while her mom tried to tell her that this sometimes happens to boys and girls at this age, Hazel had read enough stories to know that it's never that simple. And it turns out, she was right. Jack's heart had been frozen, and he was taken into the woods by a woman dressed in white to live in a palace made of ice. Now, it's up to Hazel to venture into the woods after him. Hazel finds, however, that these woods are nothing like what she's read about, and the Jack that Hazel went in to save isn't the same Jack that will emerge. Or even the same Hazel.
Rights
Audio Rights
Available
The audio rights are handled by Tina Dubois.
Roxane Edouard manages the translation rights for Breadcrumbs
Translation Rights Sold
Chinese Simple
Mainland China
Beijing Publishing Group
French
World
Editions Du Seuil
German
World
Aladin Verlag
Thai
World
Tathata Publications
Media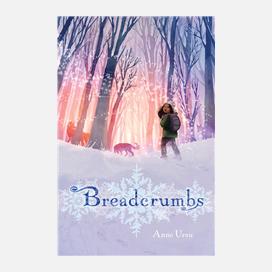 Reviews
[A] deeply felt, modern-day fantasy that borrows plot from Hans Christian Andersen's The Snow Queen. The creepy fantasyland that Hazel traverses uses bits from other Andersen tales to create a story that, though melancholy, is beautifully written and wholly original.
Publishers Weekly (starred review)
Like a fairy-tale heroine, Hazel traverses the woods without a breadcrumb trail to save a boy who may not want to be saved in this multi-layered, artfully crafted, transforming testament to the power of friendship.
Kirkus Reviews (starred review)
The evocative magical landscape, superbly developed characters (particularly dreamy, self-doubting, determined Hazel and lost Jack), and the piercing sadness of a faltering childhood friendship give this delicately written fantasy wide and lingering appeal.
Bulletin for the Center of Children's Books (starred review)
Although this is a fantasy, its grounding in psychological realism and focus on Hazel's feelings makes it a fine choice for readers who prefer realistic fiction. Ursu's multilayerd, dreamlike story stands out from the fantasy/quest pack/
School Library Journal (starred review)
A strange, amazing, sad, thoughtful, one-of-a-kind original. You will find no other book out there quite like this one, no matter how hard you try.
Elizabeth Bird
Wonderfully distinct, delightfully told and destined for a long life on the shelf.
The Wall Street Journal
"Devastatingly beautiful and brilliant throughout, Anne Ursu's Breadcrumbs shines like a gem. Ursu has sculpted a rich and poignant adventure that brings readers deep into the mysterious, magical, and sometimes frightening forests of childhood and change. This is storytelling graced with depth and filled with wonder."
Ingrid Law, Newberry Honor-winning author of Savvy
"This is a lyrical book, a lovely book, and a smart book; it dares us to see stories as spreading more widely, and running more deeply, than we had hoped."
Gary Schmidt, Newberry Honor-winning author of The Wednesday Wars