book
| Fiction
| Feb 2019
World English →
Putnam
(Ed. Stacey Barney)
Featured on Seventeen's 10 Best YA Books of 2019 So Far
Featured on Goodread's 32 Big Books that YA Fans Can't Wait for in 2019
Featured on Book Riot's Most Anticipated Books of 2019
Featured on Bookish's Winter 2019 Most Anticipated YA Sci-Fi and Fantasy
Featured on Apple's Best Books of February 2019
Featured on Amazon's Best Young Adult Books of March 2019
Listed in Indigo's Best Books of 2019
Featured on New York Public Library's Best Books for Teens List 2019
Featured in the 2020 Texas TAYSHAS Reading List
Featured in CBCA 2020 Notable Books

Shortlisted in the CBCA awards in the Book of the Year: Older Readers category

Get in quick, get out quicker.

These are the words Keralie Corrington lives by as the preeminent dipper in the Concord, the central area uniting the four quadrants of Quadara. She steals under the guidance of her mentor Mackiel, who runs a black market selling their bounty to buyers desperate for what they can't get in their own quarter. For in the nation of Quadara, each quarter is strictly divided from the other. Four queens rule together, one from each region.

The four quadrants of the kingdom are:
Toria: the intellectual quarter that values education and ambition
Ludia: the pleasure quarter that values celebration, passion, and entertainment
Archia: the agricultural quarter that values simplicity and nature
Eonia: the futurist quarter that values technology, stoicism and harmonious community
When Keralie intercepts a comm disk coming from the House of Concord, what seems like a standard job goes horribly wrong. Upon watching the comm disks, Keralie sees all four queens murdered in four brutal ways. Hoping that discovering the intended recipient will reveal the culprit – information that is bound to be valuable bartering material with the palace – Keralie teams up with Varin Bollt, the Eonist messenger she stole from, to complete Varin's original job and see where it takes them.
Chapters alternate between Keralie's race to figure out who murdered the queens and the perspectives of each of the four queens and the secrets they were hiding. Dangerous secrets.
Four Dead Queens is an immersive fast paced read; it's Red Queen meets One of Us is Lying, a YA fantasy-thriller with an indelible new world and twists you won't see coming.
Rights
Film Rights
Available
Contact Hillary Jacobson for more information
Roxane Edouard manages the translation rights for Four Dead Queens
Translation Rights Sold
French
World
Editions Casterman
German
World
Piper Verlag
Hungarian
World
Alexandra Publishing
Portuguese
Brazil
Distribuidora Record
Portuguese
Portugal
Grupo Leya
Romanian
World
Editura Corint
Russian
World
AST Publishers
Slovak
World
Slovart spol
Spanish
World
Ediciones Kiwi
Turkish
World
Yabanci Yayinlari
Media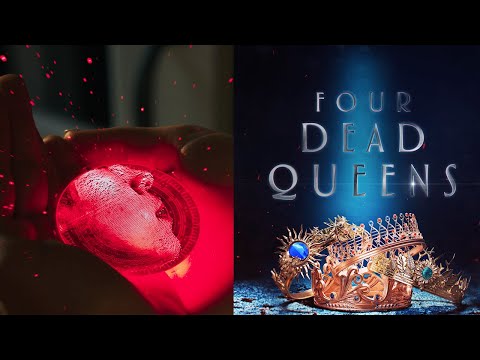 Reviews
A cinematic thrill ride brimming with murder, mayhem, and twists that will shock you, Four Dead Queens is sure to be your next obsession. Absolutely riveting.

Sarah Glenn Marsh
Astrid Scholte breaks into the fantasy genre with a triumphant, exciting debut that will keep readers guessing all the way to final chapter. Four Dead Queens is not to be missed!

Beth Revis
Four Dead Queens is a darkly delicious tale that keeps you in constant suspense. A thrilling, genre-blending book perfect for fans of both fantasy and murder mysteries. I just might be the fifth dead queen because this story—with its labyrinthine twists and turns—slayed me in every possible way.

Kerri Maniscalco
Best-selling Author of the Stalking Jack the Ripper Series
No one is going to be ready as they enter into the vivid world of Quadara. It was so much fun to get lost with the in-depth world building and the beautifully imperfect characters. A very fast paced mystery that takes so many twist and turns you'll find yourself gripping the book for dear life.

Mattie
Bookmarks Teen Advisory Council Member, Bookmarks Bookstore
This was an un-put-down-able roller coaster of a read. In a fantastical world of quadrants, females reign supreme. The story is told in parts and each part is full of twists, mystery and murder. I love the protagonist as much as the doomed queens. This is a debut you do not want to miss. Four Dead Queens has every element of fantasy I need to give it a very high recommendation!

Karen
That Bookstore
Scholte's stand-alone debut marks her as an author to watch.

Kirkus
Scholte has created an intrigue-heavy adventure in a world filled with characters whom readers will want to revisit.

Publishers Weekly
The story takes unexpected turns, has complicated characters who develop over time, and ends unpredictably . . . A recommended addition to young adult fantasy/dystopian collections, particularly where regal sagas are popular.

School Library Journal
Full Review
A theft gone wrong, a conspiracy, and four murdered monarchs make this fast-paced novel a must-read. Perfect for fans of Divergent, this murder mystery is jam-packed with plot twists, romance, and heart-stopping suspense.

Brightly
One of the best thieves in Quadara, seventeen-year-old Keralie finds her latest crime going awry when her victim turns up at the auction where she usually sells her loot, demanding his possessions back, while Mackiel, her boss and childhood friend, is suddenly willing to kill her to get the goods... Keralie's swaggering demeanor is hiding a deeply troubled past, and her sins give leverage to her enemies but also make her a fierce, darkly compelling protagonist.

Bulletin of the Center for Children's Books
Full Review
Four Dead Queens is a fresh, fun introduction to Scholte as an author- a good, devious mix of some of the best fantasy and murder mystery that YA has had to offer recently.

Entertainment Weekly
An enthralling fast-paced murder mystery where competing agendas collide with deadly consequences, Four Dead Queens proves that it's not always good to be queen.

Bookish First
In this fast-paced debut YA fantasy, a thief and a messenger race against time to unravel a conspiracy aimed at murdering the four queens who rule their nation.

Publishers Weekly
There's been a lot of hype surrounding this exciting fantasy debut from Astrid Scholte, who worked on visual effects for movies like Avatar, District 9 and more. When an author possesses the kind of imagination that helps craft films like that, you can bet her novel is just as stunning.

Paste Magazine