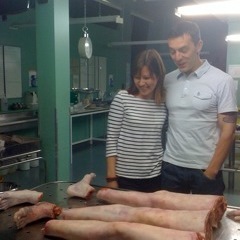 Ben


Court &
Caroline
Ip

Writers for film and television
Ben Court and Caroline Ip are film and TV writers. Their debut feature, The Hole, based on the novel by Guy Burt, starred Keira Knightley and Thora Birch, and has become a classic teenage psycho thriller. They subsequently penned Cracks, the Jordan Scott helmed feature that starred Eva Green and Juno Temple.
For television, Ben and Caroline created and wrote May Day for Kudos/BBC1 about a May Queen who goes missing and the suspicions this crime raises in small town England. May Day starred Aiden Gillen, Sophie Okenedo, Pete McDonald, Peter Firth and Lesley Manville.
The first instalment of Ben and Caroline's TV serial Whitechapel, a three-part thriller about a Jack The Ripper copycat killer, had viewing figures of over 8 million on ITV when it aired in January 2009 and was nominated for a 2010 Broadcast Award for Best New Programme, the popular series ran for 4 seasons on ITV.
They are currently developing new projects for TV and film in the UK and the US.
Television
Writer & Creator
Drama about a Victorian female detective.
ITV Studios
In Development
Original series in development with The Forge
Sid Gentle Films
In development
A family go abroad to escape their demons.
Working Title Television
In development
Adaptation of bestselling thriller by Ruth Ware.
Starring
Phil Davis
Steve Pemberton
Rupert Penry-Jones
Fourth series of the crime drama
Starring
Phil Davis
Steve Pemberton
Rupert Penry-Jones
Third series of the popular drama
Adaptation of the detective novels by John Harvey
Company Pictures
for
ITV1
In development
Starring
Phil Davies
Alex Jennings
Steve Pemberton
Rupert Penry-Jones
Follow up to the popular crime series
Starring
Phil Davis
Alex Jennings
Steve Pemberton
Rupert Penry Jones
Thriller about a Jack the Ripper copycat killer
Starring
Samantha Beckinsale
Kelly Harrison
Owne Teale
Stephen Tompkinson
Dark psychological thriller
Film
Writer
Producer
Sally Woodward Gentle
Starring
Sinead Cusack
Eva Green
Imogen Poots
Juno Temple
Acclaimed thriller set in a remote girls' boarding school in the 1930s