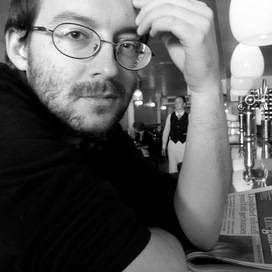 Ben


Teasdale

Writer for television
Ben is a writer for television; produced work includes an original half hour called The Baader-Meinhoff Gang Show, for Channel 4's Coming Up strand; and The Magister and The Irredeemable Brain of Dr Heinrich Hunsecker, two comedy horror half hours for BBC3's Spinechillers.
Ben has also diversified into children's television, co-creating and writing the children's supernatural comedy series Oddmoor and writing the opening series of the Cartoon Network's series, 100 Head Eddy.
Ben was series consultant on the BBC World Service's supernatural drama Bishaash and he co-created the hospital drama Pulse which broadcast on BBC3 in 2010.
Television
Writer
Set in a near-forgotten inner-city school where strange is normal, Strangehill High is Grange Hill meets The Muppets in South Park created by Yoshimi & Katoi.

New serial supernatural teen drama for BBC World Service set between Bangladesh and London
Animated sit-com pilot co-written with Simon Dean
Slinky Productions
for
BBC3
Starring
Ewan Bremner
Amelia Bullmore
Olivia Coleman
Eddie Marsan
Dogma TV Coming Up Strand
Ideal World Productions
for
Channel 4
Director
Crispin Whittell
Starring
Amanda Couzens
John Draycott
Tom Ellis
An original comedy horror script for the BBC3 Twisted Tales series
BBC3 Spinechillers commission about the devil moving his family to middle England
Starring
John Bowe
Belinda Everett
Victoria Hamilton
Shelley King
An original comedy horror for BBC3's Twisted Tales series
Original television thriller script
Box Productions
for
Channel 4
In development
Creator
co-created with Toby Haynes
Original children's television comedy sci-fi series for BBC
New kids cartoon series for Cartoon Network
Creator
Starring
Arsher Ali
Setphe Campbell Moore
Greg Chillin
Claire Foy
Created hospital thriller for the BBC
World Productions
for
BBC3