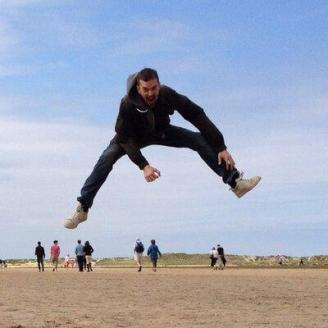 Benjamin Barfoot
Director for Film and Television
Biography
Benjamin Barfoot directed and edited his first feature - Double Date - in 2017, which was given a nationwide cinema release, won best international feature at Strasbourg film festival, and got him long listed for a BIFA that year for Best Debut Director.

His first short, Signature, was nominated for a Broadcast Young Talent Award. Whilst his second short, Fuse, played at Raindance and was nominated for the longform award at Soho Rushes Shorts.

Prior to this, Benjamin worked freelance as a documentary director, editor, animator and cinematographer for BBC, Vice and MTV.

CV
Film
Director
It's Ron Weasley's (Harry Potter) 29th birthday and things have not worked out as well as he imagined.
Writer
Danny Morgan and Benjamin Barfoot
Starring
Albert Plum. One of the most famous actors you've never heard of.
Writer & Director
Fuse
Nominated for the longform short film award at Soho Rushes shorts
Producer
Lee Wade and Benjamin Barfoot
A fusion between live action and animation and using custom developed software (automated rotoscope) to create a dark sci-fi thriller.
TV
Director
Writer
Tom and Harry Williams
Comedy about a group of everyday heroes
Two Brothers Pictures
for
Channel 4