book
| Non-Fiction
| 2004
World →
Cassell Illustrated
Plants can be entertaining. Some of them are funny. They can be wistful, cheeky, shy and retiring or flamboyant and voluptuous. We may think we choose plants for their height or habit, or the colour of their flowers, but they are much more than a collection of physical characteristics and often there is something so engaging about a plant that we feel we just have to grow it. Combining Carol Klein's sublime text with Jonathan Buckley's superb pictures, Plant Personalities reveals why certain plants capture our imagination. Describing plants by personality group is not a scientific system but an entertaining way of appreciating them and an informative way of rating their contribution to the garden. Whether you delight in a Cinderella who shoots to stardom before the clock strikes twelve or a Drama Queen who grabs all the attention, the plant portraits provide an inspirational new way of appreciating the magic of the garden.

Rights
Gordon Wise manages the translation rights for Plant Personalities
Media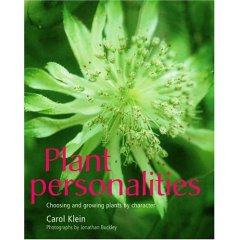 Reviews
This book has a personal touch and is a pleasure to read as well as a joy to look at.
BBC Gardeners' World
There are books for which borrowing is not enough. Among those...is Plant Personalities.
Anna Pavord
The Independent