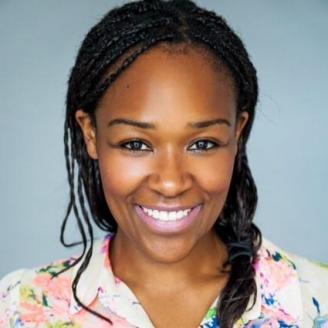 Charlene James
Playwright
Biography
Charlene James is an award-winning playwright and an actor who trained at Birmingham School of Acting and The School at Steppenwolf, Chicago.
In 2008, she participated in the Royal Court's Young Writers Programme and in 2012 she was selected to be one of the 503 Five at Theatre 503. In 2013 Charlene became a writer in residence at the Birmingham Rep for their season focusing on mental health.
Her play, Tweet Tweet, was commissioned by the Birmingham Rep as part of Young Theatre Makers. It premiered at The Birmingham Rep before touring.
Charlene was awarded the Alfred Fagon Award, for best new play at the National Theatre for Cuttin' It, a play focusing on Female Genital Mutilation - which then transferred in 2016 to the Royal Court and Young Vic respectively to considerable critical acclaim and was nominated for Best New Play at the UK Theatre Awards 2016.
Charlene was awarded the George Devine Award 2015 for the same play as well as winning a BBC Audio Drama award for her radio adaptation of Cuttin' It.
She was then awarded the Charles Wintour award for Most Promising Playwright at the Evening Standard Theatre Awards 2016.
She is a Jerwood New Playwright 2016 and is currently under commission from RADA, Royal Court and Royal Exchange Manchester.
CV
Radio
Writer
Radio adaptation of her award winning play - about two 15-year old Somali girls and their experiences of female genital mutilation.
Production Company BBC
Broadcaster BBC Radio 4
TV
Writer
Producer
Rachelle Constant
Monologue piece as part of the BBC's The Break short films.