Winner of the BBC Short Story Award 2011

book
| Fiction
| 2011
Canada →
Hamish Hamilton
(Ed. Nick Garrison)
US →
Bloomsbury Publishing
(Ed. Anton Mueller)
UK →
Bloomsbury Publishing
(Ed. Helen Garnons-Williams)
Set in the remote Kootenay Valley in western Canada, Once You Break a Knuckle tells stories of good people doing bad things: two bullied adolescents sabotage a rope swing, resulting in another boy's death; a heartbroken young man refuses to warn his best friend about an approaching car; sons challenge fathers and break taboos. Crackling with tension and propelled by jagged, cutting dialogue, the stories interconnect and reveal how our best intentions are doomed to fail or injure, how our loves can fall short or mislead us, how even friendship – especially friendship – can be something dangerously temporary.

Wilson's world is always dangerous, barbed with violence and the possibility of betrayal. And yet, in this small, finely-wrought universe, a dogged, wry dignity is usually enough to see us through.

An intoxicating alloy of adrenaline and the kind of vulnerability we would all admit to if we were honest, Once You Break a Knuckle is about the courage it takes just to make it through the day.
Rights
Audio Rights
Available
The audio rights are handled by Alice Lutyens.
Claire Nozieres manages the translation rights for Once You Break A Knuckle
Media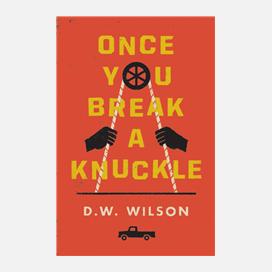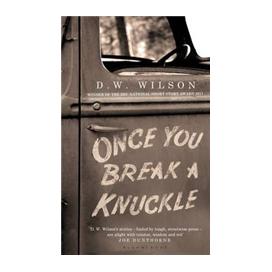 Reviews
I say this through gritted teeth, but DW Wilson's stories have a wonderfully raw, vernacular energy which carries the reader through some dark and spitefully funny moments. This is a cracking read, damn him
Jon McGregor
D. W. Wilson's Dead Roads was the stand-out winner of the 2011 BBC Short Story Award. My worry was that it might also be the stand-out story in this debut collection, but no – the standard is consistently, astonishingly high throughout. There are echoes of Wells Tower and Russell Banks, but Wilson's voice is distinctive, confident and completely enthralling."
Geoff Dyer
D. W. Wilson's stories - fuelled by tough, streetwise prose - are alight with tension, wisdom and wit.
Joe Dunthorne
The stories patiently gather the full power of a novel. By the time he's done, Mr Wilson has mapped this place as precisely as any cartographer could.

New York Times
"His characters are tough, sometimes hard-drinking skilled labourers and local police officers from the remote Kootenay Valley in British Columbia, men with names like Animal and Walla, but they are also tender, confused and painfully vulnerable - romantics, under the calluses, in the Scott Fitzgerald vein, yearning for love and a connection with the world around them, but too raw and frightened to make the attempt."
John Burnside
The Guardian
This is one of the finest pieces of debut fiction I've encountered in the last few years, and with it DW Wilson takes his place with other North American writers such as David Vann and Daniel Woodrell in eking out savage grace and empathy through muscular prose and the desperate circumstances of his characters.
Doug Johnstone
Herald Scotland
Full Review
"Wilson's prose is whittled down to the bone yet still carries an intense, visceral power...there is real literary skill on show here, Wilson imbuing his tales with a fist-clenching lyricism and a deeply felt pathos...this is a really exceptional debut, and an emphatic calling card from a genuine talent."
Doug Johnstone
Herlad Scotland
"Wilson's world is dangerous and unpredicatable, and his writing has a terrific, understated force."
Kate Saunders
The Times
"Wilson...leaves an unforgettable mark in his sublimely judged depiction of boys and men of all ages...[a]hugely accomplished collection."
The Sunday Times
"[A]superb debut collection."
The Sunday Times