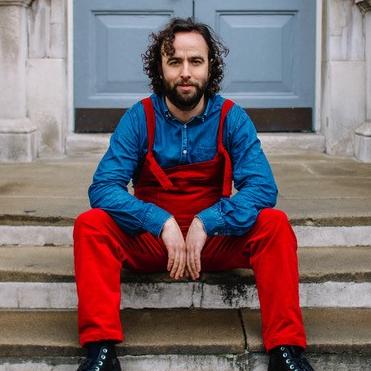 Daf


James

Playwright, Screenwriter, Composer and Performer
Daf James is a multidisciplinary queer artist: an award-winning playwright, screenwriter, composer and performer. He works across theatre, radio, television and film in both English and Welsh. After gaining a first class degree in English literature at Edinburgh University he trained in the Lecoq method at the London International School of Performing Arts, and received his doctorate in Theatre Studies from the University of Warwick. Daf's work often explores and celebrates queerness, identity politics, marginalised voices, Welshness, and notions of family.
Daf's first show as his alter ego 'Sue' – MY NAME IS SUE – which he performed, composed and co-wrote with Ben Lewis, won a Total Theatre Award for Music and Theatre. His subsequent play LLWYTH [Tribe] 'announced James as a major new voice, and pioneered a bold new Welsh-language theatrical vernacular' (the Guardian). Contemporary Welsh Plays honours LLWYTH as having 'changed the landscape of Welsh language theatre forever'. For TYLWYTH – his second part to LLWYTH, a decade later – Daf was recognised as 'one of Wales's most exciting playwrights' (the Guardian) and 'the best modern Welsh dramatist we have' (Walesonline). Recently, a run of the American premiere of On the Other Hand, We're Happy was extended after being hailed by the LA Times as 'that proverbial needle in the theatrical haystack'.

Daf is a prolific composer and lyricist and his music for theatre has been awarded a Cameron Mackintosh Award as well as a Total Theatre Award. He's written hundreds of songs for small to large scale works across a range of genres. These include songs for television and film; a new version of Brecht's Mother Courage for National Theatre Wales,
Tiger
Bay: the musical
:, co-produced by Wales Millennium Centre and Cape Town Opera starring Vikki Bebb, Dom Hartley-Harris, John Owen-Jones, Suzanne Packer and Noel Sullivan; and
City of the
Unexpected
, Wales' largest ever cultural event, which more than 120,000 attended across the city of Cardiff to celebrate the centenary of Roald Dahl.

Also a sought after theatrical translator, Daf's translated multiple texts into Welsh and English including SPRING AWAKENING: THE MUSICAL for Theatr Genedlaethol Cymru; THE FLOCK by Jesper Wamsler for Gwasg Gomer; YURI by Fabrice Melquiot for August 012; PETULA by Melquiot for August 012/Theatr Genedlaethol and National Theatre Wales; TUESDAY by Alison Carr for Nick Hern Books; and his own National Theatre Connections play HERITAGE. Both TUESDAY and HERITAGE now form part of the WJEC drama syllabus.
Daf is currently associate artist at the Sherman Theatre and his original drama series LOST BOYS AND FAIRIES, produced by Duck Soup, starts filming in March 2023 for BBC One.
Television
Writer & Creator
Writer
'Abattnoir' read by Sarah Millican for the third series of the hit adult storytelling show.
Starring
Rebecca Front
Frances Barber
Sharon Horgan
Katy Brand
A rare, intimate and hysterically funny look at the people behind the legends and a celebration of great women from history.

Tiger Aspect
for
Sky Arts
Starring
Rhian Blythe
Hannah Daniel
Richard Elis
Huw Rhys
Second, third, fourth and fifth series of the Welsh drama which follows a group of teachers at Ysgol Gyfun Gymraeg Bro Taf
Storylining for the fifth series of the popular Welsh language show
Composer
Film
Writer
Co-written with Bethan Marlow

Adaptation of Mike Parker's award-winning book

Radio
Writer
The true story of a dark family secret.


Production Company BBC
Broadcaster
BBC Radio 4
Writer
Production Company BBC Radio 4

Starring
Matthew Gravelle
Alex Harries
Eiry Hughes
Lee Mengo
Play for the BBC Radio 3 strand The Wire
Radio play about a young man whose plan for a laddish Christmas in Cardiff is ruined by a family crisis
Other
Production Dramaturg
Grimm meets Tarantino in this brutal love story set around Memorial Day celebrations in 1950's America. Featuring original live music inspired by Blues, Rockabilly, and Americana. Part gig, part slasher movie, part road movie, part murder ballad.