BAFTA Nominated: Best Series
tv


Producer

Sally Woodward Gentle

Director

Andy Wilson

Starring
Peter Capaldi
Douglas Henshall
Alistair Mackenzie
Neve McIntosh

Production Company Kudos Film and Television
Set amongst the patients and young medical team at a psychiatric hospital in Glasgow Pyschos was a gripping and challenging drama series.
Its uncompromising portrait of the system, the patients and the doctors was critically acclaimed and for the first time gave a real insight into life in mental hospital for staff and inmates.
The drama followed the private and professional lives of the staff and the effects, or lack of, they had on their patients and visa versa.
Psychos was David's first ever drama script and its commission marked the start of Channel 4's policy of making series - and was also the first ever fiction commission for Kudos Productions.
Media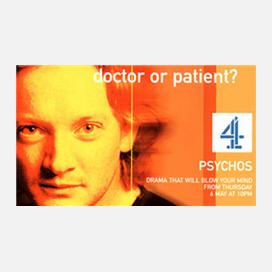 Reviews
'a distinctive blend of the droll and the disturbing... Outstanding.'
The Sunday Times
'a delightful script'
Time Out