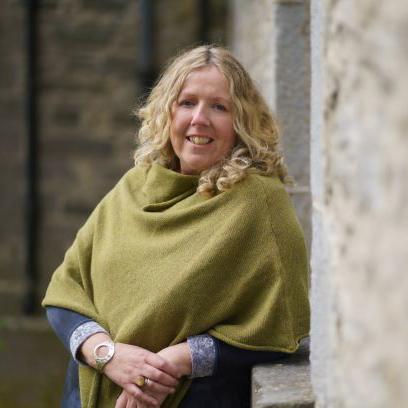 Deirdre


Kinahan

Playwright
Deirdre Kinahan is an award-winning playwright. She is an elected member of Aosdána, Ireland's elected organisation of outstanding artists and Literary Associate with Meath County Council Arts Office. Deirdre collaborates with artists and theatres all over the world and has a large canon of regularly produced plays to her credit. She is published by Nick Hern Books.
Plays include: Embargo, Rathmines Road, Moment, Halcyon Days, Wild Sky, Bogboy, Hue & Cry, Spinning.
She works regularly with the Abbey Theatre where her recent adaptation of Michel Trembley's Les Belle Soeurs, The Unmanageable Sisters, returned triumphantly twice to the stage.
New works in 2021 include The Saviour for Landmark Productions, In the Middle of the Fields for Solas Nua Washington DC and The Visit for Draíocht and Dublin Theatre Festival.
The warp of Kinahan's episodic script realistically depicts the inner life and outer journey of a breast cancer survivor
Broadway World
on In The Middle Of The Field
"unashamedly humanistic - 4****"
The Irish Times
on Embargo
"Deirdre Kinahan has a keen contemporary sensibility and it shines through this period piece"
Indo
on Embargo
Theatre
Writer
Explores the topic of breast cancer survival.
Brought together 14 writers, 14 directors, and 14 actors to give voice to the men, woman, and children who were killed in Croke Park on 21 November 1920. Performed 100 years on in November 2020.




As part of Dublin Theatre Festival 2020
A muddy, complicated, poetic, bloody, and heroic tale of a politically motivated industrial action, in which three characters deal with a pivotal moment during the Irish War of Independence.

Fifty writers from Ireland, with unique additional contributions from the USA, China and Italy, were commissioned to each write a monologue to be performed by fifty actors and to be streamed across four nights on the theatre's YouTube channel.




A new version of Michel Temblay's Les Belles Soeurs at the Abbey Theatre, Dublin.

Starring
Julie Walters
Part of the Old Vic's One Voice series of monologues.
A victim comes face to face with their perpetrator 20 years after the crime. A play about justice and rehabilitation.

Fishamble, Abbey Theatre, Dublin Theatre Festival
A new play commemorating the end of World War I

A new children's play with music where a forgotten imaginary friend is trying to find his way home to the lost kingdom of Yugoslavia.

Meath County Council, Tour
Wild Notes
Nominated for Outstanding New Play – Helen Hayes Awards Washington DC
A new play inspired by Frederick Douglas, famous American Abolitionist who visited Ireland in 1846.

Solas Nua, Washington DC.
Manhattan Theatre Company
Community project with the Old Vic.
Starring
Catriona Ennis
A rich powerful new play by Deirdre Kinahan exploring the extraordinary energy and complexity of events in Ireland in the lead up to Easter 1916.
Starring
Caitriona Ennis
Fiona Bell
Janet Moran
​Karl Shiels
A contemporary tragedy set in a small town.
Fishamble Theatre, Smock Alley Theatre
Starring
Paul Chahidi
Nadia Clifford
Mariah Gale
Robert Lonsdale
Short play about the effect of the economic downturn in Ireland, part of the Open Court season
Halcyon Days
Winner: Fringe First, Edinburgh Fringe Festival
Starring
Stephen Brennan
Anita Reeves
A celebration of the human spirit and our quest for meaning in even the most seemingly hopeless circumstance
Smock Alley Theatre Dublin, Edinburgh Fringe Festival 2013
Starring
Steve Blount
Peter Daly
Robert Donnelly
Mary Murray
Part of Tiny Plays For Ireland, building a picture of Ireland at the crossroads through a series of three minute plays
Project Arts Centre, Dublin
Starring
James Allen
Maggie Cain
Cynthia Marker
Josh Odor
American premiere of Deirdre's incisive look at one family torn apart by a dark secret
The Transgressor was created as part of the epic performance cycle commissioned to celebrate the opening of the Bush's new theatre
Bogboy
Winner Irish Festival New York: Best Production
Producer
Tall Tales Theatre Company
Starring
Steve Blount
Noelle Brown
Sorcha Fox
Emmet Kirwan
An unusual friendship develops between two people trying to forget the past
Project Arts Centre, Dublin. Irish Arts Centre, New York
Starring
Deirdre Donnelly
Maeve Fitzgerald
Alan King
Ronan Leahy
When the prodigal son returns both he and the rest of his family struggle with why he left and why they wish he'd never come back
Project Arts Centre, Dublin. The Bush Theatre, London
Starring
Francesca Annis
Debbie Chazen
Richard Cordery
Hugh Skinner
Short play as part of the celebrations of the Bush Theatre's new building
Two cousins are reunited after a family funeral
Bewley's Cafe Theatre, Oran Mor, Irish Rep, New York
Starring
Georgina McKevitt
When Mr Kane and Kathleen meet eating lunch on a park bench, they end up sharing more than just their sandwiches: together, they learn to count their blessings and face the challenges of love
Diversions Theatre, Dublin
Director
Padraic McIntyre
Play for children. An adaptation of a Russian Fairytale which tells how an old couple befriend a snowchild who comes to life.
Co-written with Alice Barry
Director
Padraic McIntyre
Play for children. Adaptation of an Enid Blyton story which tells of the goings on in the toy room of Mary Spratt.
Starring
Evan Holton
Roisin Kearney
Victoria Monkhouse
Maureen Collende
Eithne McGuinness
Five women explore their lives as prostitutes on the streets of Dublin
Andrews Lane Theatre, Dublin
Radio
Writer
Radio 4 debut about a Dublin secretary and mother who finds the body of a young woman dumped on her doorstep.