book
| Fiction
| Aug 2014
US & Canada →
Delacorte Press
(Ed. Michelle Poploff)
Dear Royal-T Toilet Paper Company,

You guys make the best toilet paper on the planet. I realize that's a weird thing for a seventh grader to say, but it's true. I didn't know to appreciate having Royal-T in our bathroom until the day it was gone – replaced by the world's worst recycled, scratchy (sand)paper. Good toilet paper was the first thing to go, then cable got turned off and it's gotten much worse.
But I don't feel like talking about that now.

Your friend,
Benjamin Epstein

Seventh grader, Benjamin, is about to lose a whole lot more than good toilet paper. If he doesn't make tons of money fast by selling candy bars and winning contests, his family will get kicked out of their apartment. Even with Benjamin's flair for clever and creative slogans, will he be able to win a cash grand prize large enough to keep an impossible promise he made to his dad before he died? Or will Benjamin's entire galaxy disappear?

Rights
Roxane Edouard manages the translation rights for Death by Toilet Paper
Audio Rights
Available
The audio rights are handled by Alice Lutyens.
Translation Rights Sold
Dutch
World
Van Hokelma & Warendorf
German
World
Random House Verlag
Media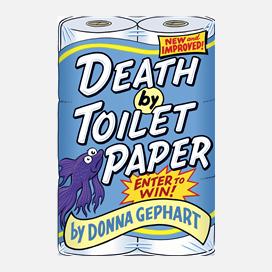 Reviews
Readers can't help but enjoy this heartening book about hanging in there.
Kirkus Reviews
Full Review
Ben is a character kids will root for, and he's surrounded by family and friends who help him see things will be okay, a message that may comfort readers facing similar circumstances.
Publishers Weekly
Ben is a determined, likable character whom readers will doggedly root for, and Gephart infuses his story with humor and heart as she tenderly explores issues of grief, loss, family, and friendship. What's more, the amusing ending—featuring a zombie bride in a toilet paper wedding dress—will leave everyone satisfied.

School Library Journal
Full Review
A nicely pitched tale about a boy grieving, scrambling to get his family back on track, and still find himself as well.

Booklist
Full Review
There's a poignant story here, elevating this new middle-grade novel (recommended for readers ages 9 to 12) to much more than a delightful end-of-summer read.

Christian Science Monitor
Full Review