How To Survive Middle School
book
| Fiction
| Apr 2010
11-year-old David Greenberg wants to become an Internet celebrity with his Talk Time YouTube videos, but first he has to make it through:

1. Middle school
2. His best friend going girl crazy
3. PUBERTY!
5. Crushing on an unusual girl
6. A mom who writes him letters from the beet farm where she now lives
7. A dad who's a rock star in his own mind
8. His acne-prone sister
9. And his # 1 fan -- Bubbie (Jewish grandmother)
10. Did we mention his heart-breaking hamster?

Can David get through his first year of middle school? Will he lose his best friend? Gain a girlfriend? Survive his quirky family? Most importantly, will he become a famous talk show host like his idol, Jon Stewart?
Rights
Audio Rights
Available
The audio rights are handled by Liz Farrell.
Roxane Edouard manages the translation rights for How To Survive Middle School
Media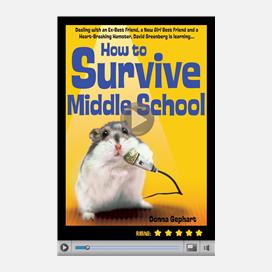 Reviews
Kirkus starred review

Gephart maps the hormonal, emotionally torturous terrain of pubescent boyhood with realistic dialogue, well-developed secondary characters and age-appropriate humor and insight, placing this title in the same august league as Jordan Sonnenblick's Girls, Drums and Dangerous Pie.
Kirkus starred review
Full Review
School Library Journal starred review

With short chapters and broad humor, this one is for "Wimpy Kid" aficionados.
School Library Journal starred review
Full Review
Gephart crafts for her likable protagonist an engaging, feel-good transition into adolescence that's well stocked with tears and laughter.
Booklist
Full Review