An artist sells her work, but believes she still owns it.
An advertising genius hunts for the next 'big idea'.
A thief steals shoes and calls it activism...
Jed just wants to do the right thing.
Everything is a product: shoes, art, sex - even protest. How can we commit in a world where compromise rules?

In Someone Else's Shoes, writer Drew Pautz plunders the material world in a sharp, funny and thought-provoking new comedy.

Media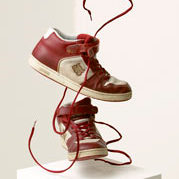 Reviews
crackles with humour and subversive intelligence ****
The Sunday Times
slick...smart-talking and witty
Independent on Sunday
clever, cool...very funny ****
Time Out