The idea of the war coming to their small, impoverished Welsh mining village always seemed remote, but with the fireball of a downed German aircraft, and the place crawling with Americans preparing for the invasion of France, young Anthony and his Bevan Boy elder brothers find their world turned upside down.

But as well as excitement, war brings distrust, envy, lies and danger, and as tension and anger mount, the villagers find themselves hopelessly divided. Confused and afraid, it falls to Anthony, an 11 year-old in wellies, to search out the truth.

A wonderful World War 2 page-turner with beautifully drawn characters and dialogue that will have you beaming from ear to ear one moment, and wiping your eyes the next, Shoes For Anthony is Emma Kennedy's first adult novel.
Rights
Audio Rights
Available
The audio rights are handled by Ebury.
Film Rights
Available
Contact Jessica Cooper for more information
Ebury manages the translation rights for Shoes for Anthony
Media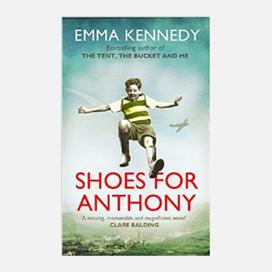 Reviews
A moving debut.

Marie Claire
A warm and funny novel.

Red
She was a lawyer for five years, then an actress (Goodness Gracious Me, Miranda), writes for and voices CBBC show Strange Hill High, and won the Celebrity MasterChef trophy in 2012. Now Renaissance woman Emma Kennedy has released her first adult novel. Set in a Welsh mining village in the Second World War, Shoes for Anthony is told through the eyes of 11-year-old Anthony, who was inspired by Kennedy's father.

Radio Times
Funny, believable and poignant.

Fabulousmag.co.uk
Kennedy's intricate insights and a brilliant plot twist make Shoes For Anthony a great read, and you'll even learn some new Welsh phrases along the way. One to pack for your summer holiday.

Heat