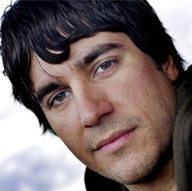 Fin Kennedy is an award winning playwright whose play How to Disappear Completely and Never be Found, was the first unproduced play to win the John Whiting Award in forty years. It was produced to critical acclaim at the Sheffield Crucible and transferred to the Southwark Playhouse, London.
Fin's new play Life Raft opened at the Bristol Old Vic.
Fin has also written numerous plays for young people. The Unravelling, which he wrote in partnership with Mulberry School in East London, won a Fringe First Award at the Edinburgh Festival. This was followed by a retrospective of Fin's work with Mulberry school at Southwark Theatre called Silkworks, which featured The Urban Girl's Guide to Camping.
Fin was chosen as one of nine writers selected for the 30th Anniversary celebration of the Pearson Playwrights' Scheme at the National Theatre in 2003 and has been a Writer in Residence at the Soho Theatre and at Half Moon YPT. He is the artistic director of the Tamasha Theatre company.
Theatre
Writer
Starring
Oscar Adams
Kai Ball
Tilly Bennett
In a mysterious dystopia, against a backdrop of war, a lifeboat filled with children is adrift at sea - their passenger liner sunk by an unknown enemy.
A new site specific play for Hydrocracker Theatre Company and the Brighton Festival. A future, just one notch away from our present. Economic chaos, food riots and blackouts are an everyday reality. An embattled NHS is forced to make harsh choices about who to treat. But one maverick consultant, in one pioneering hospital, thinks he has an answer. A new drug. A drug so revolutionary that it won't just cure you – it might actually herald the next stage in human evolution … but at a terrible cost.
A new play for Mulberry School
Live Theatre, Newcastle and The Gate, London
National Theatre Studio reading
Theatre & Beyond, Brighton
Starring
Joe Armstrong
Corinne Skinner Carter
Lucy Davenport
Matthew Delamere
A behind the scenes look at a team of social workers and their clients
Locked In
Runner Up prize at 2008 Brian Way Awards
Original play for Half Moon Young Peoples Theatre
Half Moon Young People's Theatre
Monologue for I Confess at Hoxton Hall
Tricycle Theatre commission
An original play for The Mulberry School
Edinburgh Festival play for Mulberry School
An original play for Half Moon Young People's Theatre
Half Moon Young People's Theatre
An original play for Red Room looking at issues of immigration
Southwark Playhouse and UK tour
An original play for Mulberry School
Edinburgh Festival play for Mulberry School
An original play about three daughters competing in storytelling, written for The Mulberry School
Radio
Writer
Starring
Emma Cunliffe
Lee Engleby
Joanne Mitchell
Conrad Nelson
Original afternoon play for BBC Radio 4
Production Company BBC
Broadcaster
Radio 4