theatre
Role Mister Johnny West End
Carrie's War is Andrew Loudon's 2009 stage adaptation of Nina Bawden's bestselling novel. It tells the story of Carrie and her brother Nick, two children evacuated from wartime London to Druid's Bottom, a mansion in Wales inhabited by the eccentric Gotobed family, during the Second World War.

Jamie plays Mister Jonny, a cerebal palsy-suffering relative of the Gotobeds, in the production.

Media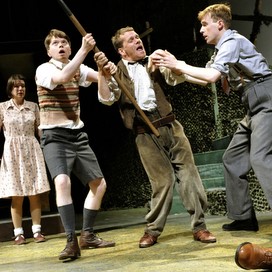 Reviews
Best of all is James Beddard as Mr Johnny, the first time, surely, a genuinely disabled actor has made such a marvellous meal of a disabled role in the West End.
Michael Coveney
whatsonstage.com