book
| Fiction
| Aug 2019
UK →
Two Roads
(Ed. Lisa Highton)
Marion Deacon sits by the hospital bed of her dying husband, Michael. Outwardly she is, as she says, an unremarkable old woman. She has long concealed her history — and her feelings — from the casual observer. And she's learned to ignore her own past, too.

But as she sits by Michael's bed, she's haunted by memories of events from almost forty years ago. She and Michael were recently married; their children, Eddie and Sarah, still young. Theirs was an uneventful life in a small village. But, stiflingly bored in role as mother and wife, Marion fell for a married man, an affair that sparked a chain of events which re-sets all their lives.

Moving between the voices of Marion, her teenage daughter Sarah and her youngest son, Eddie, How It Was is a story of love, loss and betrayal. Through Marion and Sarah, Janet Ellis explores the tensions at the heart of mother-daughter relationships, the pressure women face to be the perfect wife and mother, and how life rarely turns out the way we imagine it will when we're young.


Rights
Liz Dennis manages the translation rights for How It Was
Audio Rights
Available
The audio rights are handled by Alice Lutyens.
Film Rights
Available
Contact Luke Speed for more information
Media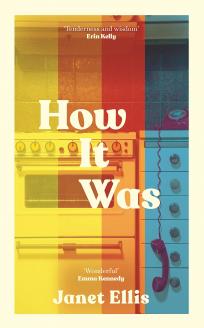 Reviews
You will love this - immersive, amazing, remarkable, I could barely breathe. I cried - and I never cry.

Marian Keyes
An atmospheric, clever novel, which will get under your skin.

Sarra Manning
Red
A wonderful book - so beautifully written, what an incredible piece of storytelling. A brutual tale of the mother-daughter relationship, told elegantly and poetically. The intensity of it! And the misplaced longing of the bored housewife. I am so impressed.
Emma Kennedy
Ellis writes beautifully, with a great eye for detail. She has a wry comic touch and all the emotions are spot on.

Daily Mail
An emotional epic. The former TV presenter's debut novel, The Butcher's Hook, was great, and this second one is also terrific, particularly in the way she writes about mother-daughter relationships.

Good Housekeeping
Poignant, cleverly nuanced and funny.

Sunday Post
Explores the human condition with pin-sharp precision, so accurate it hurts. It's a raw read, complex and compelling in its structure, with emotions laid bare. Written with empathy and integrity.

Lynne Parker
A brilliantly written, dark domestic noir.

Simon Savidge
Heartbreaking - I would definitely recommend. It's going to be a very popular summer read.

Jen Campbell
Janet Ellis writes with tenderness and wisdom about how you can lose a child while they are still under your roof - and how a child long-lost will never leave you. I veered between laughter and a lump in the throat, often on the same page. This book will sneak up behind you and break your heart.

Erin Kelly, author of He Said/She Said