All Day Long: A Portrait of Britain at Work
book
| Non-Fiction
| 2015
World →
Profile Books
(Ed. Rebecca Gray)
Nearly all of us have to work, but how much do we really know about what other people have to do all day? What is it like to be a fishmonger, a sex worker or an Orthodox rabbi? Or a banker, a research scientist or a carer? How do our jobs affect our lives, beliefs and happiness? And what happens when we don't work?
Joanna Biggs has travelled the country to find the answers, talking to interns and bosses, professionals and entrepreneurs, thinkers and doers. She takes us from Westminster to the Outer Hebrides, from a hospital in Wales to the industrial Midlands, introducing us to the different worlds of work and the people who inhabit them.
Rich with the voices of the wealthy and poor, native and immigrant, women and men of the UK in the twenty-first century, All Day Long shows us who we are through what we do.
Rights
Audio Rights
Available
The audio rights are handled by Profile Books.
Media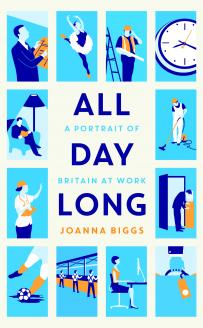 Reviews
Biggs has a lovely, calm, measured style, with just a hint of menace behind it — like a tour guide in a stately home who suddenly pulls out a baseball bat and just holds it there, smiling.
Julie Burchill
The Spectator
This is a beautifully observed set of case studies [...] Biggs's quick eye and ease with description make her a lovely observer of artisanal, physical work.
Andy Beckett
The Guardian
Biggs traces her wider narrative with a light touch [...] without using her interviews as a soapbox. Instead she lets the sad, funny, inspiring and alarming stories they tell take centre stage.
Anthony Cummins
Metro
I liked the quietness of this book, the way its argument emerges organically out of the material rather than in polemic.
Joe Moran
New Statesman