book
| Non-Fiction
| Jul 2021
UK & Comm →
Hodder and Stoughton
(Ed. Harriet Poland)
US →
Pegasus
(Ed. Claiborne Hancock)
Aged 13, Chaim Herszman was living in the Jewish ghetto in Łódź, Poland. Constantly hungry, he and his 11-year-old brother used to sneak through the barbed wire to steal food for their family. When his younger brother got caught on the barbed wire surrounding the ghetto, Chaim killed the guard who came to shoot him. On the run, Chaim escaped the ghetto, setting out on a three year journey across a continent in the grip of crisis.

Escape from the Ghetto is the extraordinary true story of one boy's escape from the prospect of extermination in the camps through to his life as a young adult on the run, constantly at risk of being discovered. Journeying through Russia, Germany, France and Spain, Chaim reinvents himself as a crucifix-wearing Volkdeutsch Aryan called Henryk Karbowski before eventually fighting in the Free Polish and British armies as Henry Carr.

In Escape from the Ghetto John Carr, Henry's eldest son, tells the story of his father's remarkable escape for the first time.

Rights
Film Rights
Available
Contact Luke Speed for more information
Liz Dennis manages the translation rights for Escape from the Ghetto
Translation Rights Sold
Danish
World
Lindhardt & Ringhof
Dutch
World
Uitgeverij Atlas Contact
Italian
World
La nave di Teseo
Polish
World
Wydawniczy Znak
Romanian
World
Grup Media Litera
Media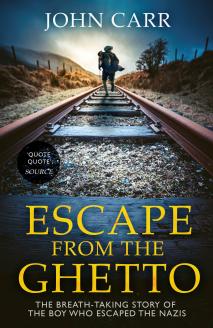 Reviews
A highly worthwhile tale of courage and perseverance in the face of seemingly insurmountable odds.

Kirkus (starred review)
Utterly Compelling. It is an extraordinary tale, brilliantly written.

Alastair Stewart
Extraordinary. An adventure story in the most terrible circumstances, a kid facing the most desperate dangers but taking fantastic risks with great boldness.

Fiona MacTaggart
This is an unbelievable story that is all completely true. The life described is astonishing. John Carr has done an extraordinary and riveting job uncovering the real father behind the dad he thought he knew.

Lord Hall
The remarkable story of a Jewish boy who killed a Nazi guard and escaped the Holocaust aged 13 to start a new life in Britain.

The Times
Trust me, this is a great true story.
Ken Follett