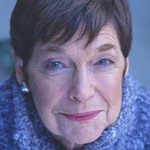 Katharine


Whitehorn

1928-2021

Journalist and author
Katharine Whitehorn was a renowned journalist and author. Her most recently published books are Selective Memory (Virago 2007) and Cooking in A Bedsitter (Little, Brown 2008).

Katharine grew up in London and studied at Cambridge. She has had distinguished career on Fleet Street, writing for The Spectator and Picture Post, among others. She went on to be the first woman to have her own column in the Observer, and was the star columnist there for almost 40 years. Katharine wrote a monthly column for Saga Magazine, as well as writing features for newspapers including The Guardian.