Amazon's Editor's Pick

book
| Fiction
| May 2013
US & Canada →
HarperCollins
UK & Comm →
Scholastic Publications
Your path will change. Your destiny doesn't.

Abby Barnes had a plan. The Plan. She'd go to Northwestern, major in journalism, and land a job at a national newspaper, all before she turned twenty-two. But one tiny choice—deciding to take a drama class her senior year of high school—changed all that. Now, on the eve of her eighteenth birthday, Abby is stuck on a Hollywood movie set, wishing she could rewind her life. The next morning, she's in a dorm room at Yale, with no memory of how she got there. Overnight, it's as if her life has been rewritten.

With the help of Caitlin, her science phenom BFF, Abby discovers that this new reality—an Ivy League address, a spot on the crew team, a birthday blind date with a cute lacrosse player—is the result of a cosmic collision of parallel universes that has Abby living an alternate version of her life. And not only that: Abby's life changes every time her parallel self makes a new choice. As she struggles to navigate her ever-shifting existence, forced to live out the consequences of a path she didn't choose, Abby must let go of the Plan and learn to focus on the present, without losing sight of who she is, the boy who might just be her soul mate, and the destiny that's finally within reach.
Rights
Audio Rights
Available
The audio rights are handled by Alice Lutyens.
Roxane Edouard manages the translation rights for Parallel
Media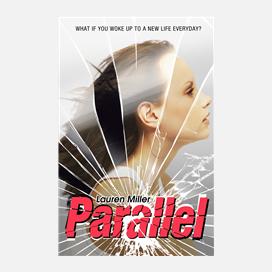 Reviews
A fun, twisty novel about the paths you choose and the paths you don't...to follow your heart's desire. Deeply romantic and entertaining!
Melissa de la Cruz
An intricately-woven story about free will, parallel universes, and cute boys. Miller nails the inner snark of the high school senior, as well as the confusion of figuring out just where your life is supposed to be headed.
Kat Zhang
Wildly inventive and wonderfully romantic, Parallel takes readers on a journey that will open their minds and their heart.
Jennifer E. Smith
PARALLEL beautifully tackles the universal themes of fate, destiny, and the search for a soulmate, proving that there are no wrong turns. Your heart will soar and you'll be cheering at the end.
Jordanna Fraiberg
Penetrating, jaw-dropping and so real, PARALLEL had my turning pages at warp speed, hoping for the best tomorrow. Which Lauren Miller absolutely delivers. Read this book.
Huntley Fitzpatrick
Firmly situate[d] next to Cat Patrick's books or Lauren Oliver's Before I Fall (2010).
Booklist
Full Review
Best. Debut. Novel. Ever.
Lauren Barnholdt