book
| Fiction
| Jun 2017
US & Canada →
Riverhead Books
(Ed. Sarah McGrath)
UK & Comm →
Viking
(Ed. Mary Mount)
From a beloved, award-winning writer, the much-anticipated novel about what happens when two families go on a tropical vacation and the children go missing.

When Liv and Nora decide to take their husbands and children on a holiday cruise, everyone is thrilled. The ship's comforts and possibilities seem infinite. The children, two 11-year-olds, an 8-year-old and a 6-year old, love the non-stop buffet and the independence they have at the Kids' Club while their parents relax. But when they all go ashore in beautiful Central America, a series of minor misfortunes leads the families farther and farther from the ship's safety. One minute the children are there, and the next they're gone.

What follows is a riveting, revealing, perfectly pitched story told from the perspectives of the adults and the children, as the once-happy parents - now turning on one another and blaming themselves - try to recover their children and their lives.

Widely celebrated for her ability to write vivid, spare, and moving fiction, Maile Meloy shows how quickly the life we count on can fall away, and how a crisis changes everyone's priorities, especially when children are involved. The fast-paced, gripping plot of Do Not Become Alarmed carries with it an insightful, provocative examination of privilege, race, guilt, envy, the dilemmas of modern parenthood, and the challenge of living up to our own expectations.

Rights
Helen Manders manages the translation rights for Do Not Become Alarmed
Audio Rights
Available
The audio rights are handled by Liz Farrell.
Film Rights
Available
Contact Amanda Urban for more information
Translation Rights Sold
Dutch
World
Uitgeverij Luitingh-Sijthoff
Estonian
World
Eram Books
Hebrew
World
Modan Publishers
Media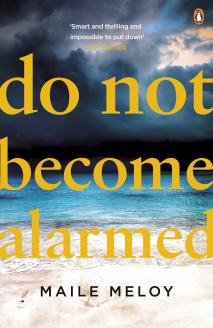 Reviews
The plot unfolds with terrifying realism, made even more potent by Meloy's sharp and economical character development. Every one of nearly 20 important characters is clearly distinguished by some memorable trait.....yet achieves three-dimensionality. Even the Latin American characters, who could easily become stereotypes.....are more than that. This writer can apparently do it all—New Yorker stories, children's books, award-winning literary novels, and now, a tautly plotted and culturally savvy emotional thriller.
Do not start this book after dinner or you will almost certainly be up all night.


Kirkus Review
Ominous, addictive . . . In crafting this high-stakes page-turner, Meloy excels as a master of suspense.
Publishers Weekly
Fast-paced, engrossing.

People Magazine
Meloy uses this story and its multiple facets to show how talented she is at her craft and how gifted she is at observing the social and economic atmospheres in today's world…Do Not Become Alarmed addresses many topics and issues such as race, gender, social and economic inequality, survival, privilege, marital relationships and friendships. With all of this going on, Meloy managed to keep it all reined in and write a compelling and fascinating portrait. Including all of this was a thoughtful process…[a] well-written, suspenseful story…Not an easy feat, but one that Meloy achieves with a proficiency that makes for an irresistible summer read.

Deseret News
Riveting … Meloy's well-crafted, suspenseful tale…is amplified by issues of class and race.

Tampa Bay Times
Do Not Become Alarmed is not only ripe with tension, it's also a terrific character study.

Myrtle Beach Online
[A] smart, suspenseful page-turner.

W Magazine
A taut, nervy thriller… Meloy has a keenly intuitive ear for family dynamics, first-world privilege, and all the ways that human nature can adapt to the unthinkable.

Entertainment Weekly
An incredibly gripping thriller…one of those books that you will stay up late to read and say: "Oh, I'll just read one more chapter, I'll just read one more chapter." It's so delicious when you get one of those books and this is definitely one of them.

Emma Straub
PBS Newshour
[A] thrilling tale… 'Page-turner' would be an understatement.

Travel & Leisure
A literary page-turner.

Entertainment Weekly
[An] intelligent thriller [with] a dramatic high-stakes plot.

Newsday
Nothing pairs better with summer than a suspense that will keep you guessing (especially when it involves a cruise ship). The pulse-inducing unputdownable tale about the disappearance of four children on a family cruise, Do Not Become Alarmed is a powerful suspense that will leave readers asking themselves if family truly keeps us safe.

Redbook
For thriller fans, the novel by Maile Meloy is the perfect summer pick…so realistic and gripping.

Catapult
This is a book you won't be able to resist finishing in one sitting.

Bustle
[A] propulsive drama … Infusing literary fiction with criminality and terror in a mode similar to that of Ann Patchett and Hannah Tinti, Meloy compounds the suspense in this gripping and incisive tale by orchestrating a profoundly wrenching shift in perspective, and morality, as well-meaning tourists face the dark realities of a complex place they viewed merely as a playground. Meloy's commanding, heart-revving, and thought-provoking novel has enormous power and appeal.

Booklist, Starred Review
This is one of those can't-stop-turning-the-pages novels, which quickly reveals itself to be something more than a page-turner…Meloy…writes with breathless tension yet lets her characters breathe; you believe these children and their desperate parents, and find yourself utterly entrenched in their fate.

Seattle Times
It's Meloy's razor-sharp execution that makes the book unforgettable. Spellbinding, terrifying and keenly observed, this one checks all our boxes for a can't-put-it-down, addictive read.

BookPage
This summer's undoubtable smash hit will ring every alarm … The award-winning Meloy convincingly illustrates how an otherwise minor snafu can snowball into a worst-case scenario… This is an addictive, heart-palpitating story.

Marie Claire
Meloy delves deeply and expertly into these personalities, plumbing the repercussions of various events in their worlds. In her new novel, she takes that approach and revs it up to top speed …Meloy skillfully analyzes each person's reaction to his or her situation in remarkably efficient prose that never scrimps on detail or emotional impact. It's a grim story told with a light touch, and it's completely addictive.

BookPage
A taut, gripping thriller… [an] entertaining examination of privileged, modern families.

Library Journal
What begins as a holiday escape becomes a riveting exploration of modern parenthood told from the perspectives of both the kids and the adults ... who begin to turn on one another

BookPage
Here is that perfect combination of a rich, luminous writer and a big story that's impossible to put down. This hugely suspenseful novel will speak to anyone who has ever felt responsible for keeping a loved one safe, whether it was a child, a partner, a parent, or a friend. Meloy's characters — the adults and the children — feel to me like real, living people I'll never forget.

Helen Fielding
This is the book that every reader longs for: smart and thrilling and impossible to put down. Read it once at breakneck speed to find out what happens next, and then read it slowly to marvel at the perfect prose and the masterwork of a plot. It is an alarmingly good novel.

Ann Patchett
Meloy's writing is literary but also page-turnery (my highest compliment), and Do Not Become Alarmed, about a vacation gone awry, promises to be both.

Anton DiSclafani
Parnassus Musing
Maile Meloy's Do Not Become Alarmed will keep you up all night, compelled by the book's twisty plot and seductive, tightly wound suspense, and afterward it will just keep you up ...

Elle
Readers in search of the summer's nail-biting, page turning, thought-provoking thriller to take to the beach - the hunt is over.

Fiona Wilson
The Times
Meloy is magnificent at maintaining tension. I swallowed this novel in almost a sitting, eyes on stalks until the early hours. Elegantly and intelligently written, it is powered by a worsening series of high-stakes events . . . her novel remains an addictive read.

Lucy Atkins
The Sunday Times
Meloy tells a terrific story, and on one level this novel can be taken as pure entertainment - a vivid, fast-moving, beach-friendly thriller. The most intriguing parts, however, are when the adult characters think about their attitudes to parenthood.
Kate Saunders
The Times