book
| Fiction
| 2011
World English →
Putnam
(Ed. Jennifer Besser)
E.B. White Read-Aloud Award 2012

Publishers Weekly's Best

Children's Books of 2011

The Chicago Public Library's 2012 Best of the Best

California Book Awards

YA Gold Medal 2012

Booktrust's Best Books 2012

It's 1952 and the Scott family has just moved from Los Angeles to London.

There, fourteen-year-old Janie meets a mysterious apothecary and becomes fascinated by his son, Benjamin Burrows - a boy who isn't afraid to stand up to authority and who dreams of becoming a spy. When Benjamin's father is kidnapped, Janie and Benjamin must uncover the secrets of the apothecary's sacred book, the Pharmacopoeia, in order to find him, all while keeping those secrets out of the hands of Russian spies.

Discovering transformative elixirs they never believed could exist, Janie and Benjamin embark on a dangerous race to save the apothecary and prevent impending nuclear disaster.
Rights
Roxane Edouard manages the translation rights for The Apothecary
Audio Rights
Available
The audio rights are handled by Liz Farrell.
Translation Rights Sold
Chinese Simple
Mainland China
Juvenile & Children's Publishing House
French
World
Editions Bayard
German
World
Coppenrath Verlag
Portuguese
Brazil
Bertrand Editora
Russian
World
Astrel Publishers
Media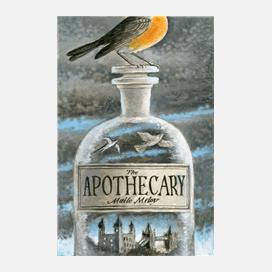 Reviews
[Maile Meloy] brings to her first book for young readers the same emotional resonance that has won acclaim for her adult fiction, grounding her story in the intricacies of family love, friendship and loyalty, blended here with the complicated fluctuations of adolescence.
The New York Times Book Review
Full Review
Maile Meloy's sly commingling of the real and the imaginary make this a witty and entertaining Cold War romp—with a touch of age-appropriate romance.
The Wall Street Journal
The blend of history, culture, and the anxiety of the time with magical 'science' will keep readers just as spellbound as the characters.
Kirkus Reviews
Even those with a vague understanding of the times will be quickly swept up in this thoroughly enjoyable adventure, filled with magic, humour, memorable characters, and just a bit of sweet romance. With evocative, confident prose...adult author Maile Meloy's first book for young readers is an auspicious one.
Publishers Weekly (starred review)
Pitch-perfect.
The Los Angeles Times
Meloy offers a strong narrator in Janie and an intriguing mix of history and mystery.
Booklist
Smartly written, page-turning adventure/fantasy
USA Today
Full Review
Think of a cross between Harry Potter and Nancy Drew.... The magic of this book is dazzling.
New York Journal of Books
An imaginative and quick-moving story about two clever kids who manage to outsmart a lot of adults.
Fort Worth Star-Telegram
Full Review
A tantalizing blend of history, mystery and fantasy.
Pittsburgh Post-Gazette
Full Review
This imaginative Cold War thriller centers on an L.A teen living in London, her new friend and his kidnapped father, whose secret elixir just might prevent nuclear Armageddon.
The San Francisco Chronicles
A twisty, magical adventure.
Girls' Life Must Read
A delightful read.
Canberra Times, Australia
Full Review
The Apothecary is an exciting, well-researched adventure that readers will find hard to put down, no matter what genre they favour
Kids Book Capers, Australia
Full Review
I ADORED the style of this book.
Forever Young Adult
Full Review
A masterful, multi-layered adventure that combines history, magic, and nonstop action, The Apothecary delivers in every regard.
Sarasota Herald-Tribune
Inventive, smart and fun, an absolute delight.
Rebecca Stead