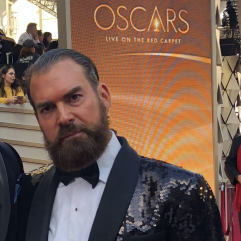 Marc


Pilcher

Hair & Make-Up Designer. Marc has worked on large features and fashion campaigns globally. He is known for his authenticity in period styling





Marc Pilcher is an Academy Award nominee for his work on Mary Queen of Scots and has also won consecutive Make-Up Artists and Hair Stylists Guild Awards (MUAHS) for the aforementioned and Downton Abbey. He is currently the Designer on forthcoming Netflix drama, Bridgerton.
Marc started his career in 1988, leaving college and landing a job in West End theatre, the best place in the world to learn period hairdressing. This happy, creative atmosphere kept him working in Theatre-Land and on tour for 15 years. In 2003, Marc started to work as a hair and makeup artist in TV which subsequently lead to him working in film. Marc's work has taken him all over the world and he feels privileged to work on such a wide variety of projects and with inspirational teams of people.
The brilliant Marc Pilcher takes home the MUAHS award for Feature-Length Motion Picture – Best Period Hair Styling and/or Character Hair Styling for Downton Abbey!