book
| Fiction
| Oct 2016
UK →
Vintage
(Ed. Becky Hardie)
'It's got a thunderstorm in it. And revenge. Definitely revenge.'
Felix is at the top of his game as Artistic Director of the Makeshiweg Theatre Festival. His productions have amazed and confounded. Now he's staging a Tempest like no other: not only will it boost his reputation, it will heal emotional wounds.
Or that was the plan. Instead, after an act of unforeseen treachery, Felix is living in exile in a backwoods hovel, haunted by memories of his beloved lost daughter, Miranda. And also brewing revenge.
After twelve years, revenge finally arrives in the shape of a theatre course at a nearby prison. Here, Felix and his inmate actors will put on his Tempest and snare the traitors who destroyed him. It's magic! But will it remake Felix as his enemies fall?
Margaret Atwood's novel take on Shakespeare's play of enchantment, revenge and second chances leads us on an interactive, illusion-ridden journey filled with new surprises and wonders of its own.
Rights
Vintage manages the translation rights for Hag-Seed
Film Rights
Available
Contact Karolina Sutton for more information
Translation Rights Sold
Chinese Complex
Taiwan
Solo Press
Chinese Simple
World
Penguin Random House
Croatian
Croatia
Algoritam Publishers
Czech
World
Prah Publishers
Dutch
World
Uitgeverij Nijgh & Van Ditmar
German
World
Knaus, Albrecht, Verlag
Greek
World
Metaichmio Publishing
Italian
World
RCS Libri spA
Korean
World
Hyundae Munhak
Norwegian
World
Aschehoug & Co
Polish
World
Wydawnictwo Dolnoslaskie
Portuguese
Portugal
Bertrand Editora
Russian
World
Eksmo Publishers
Slovak
World
Prah Publishers
Swedish
World
Wahlstrom & Widstrand
Turkish
World
Dogan Kitapcilik
Media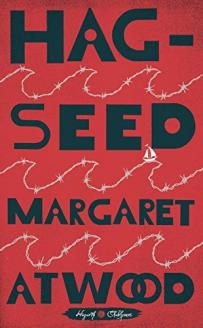 Reviews
Atwood's canny remix offers multiple pleasures: seeing the inmates' takes on their characters, watching Felix make use of the limited resources the prison affords (legal and less so), and marveling at the ways she changes, updates, and parallels the play's magic, grief, vengeance, and showmanship.
Publishers Weekly (starred review)
Funny and dark, Hag-Seed is as clever and full of layers as Shakespeare's original. The Bard would be proud

Stylist
A triumph... With Hag-Seed, Margaret Atwood's version of The Tempest, the project at last strikes gold... There won't be a more glowing tribute to Shakespeare in his 400th anniversary year.

Peter Kemp
The Sunday Times
Surpassingly brilliant... without question the cleverest "neo-Shakespearean novel" I have read... Students will learn more about the deeper meanings of The Tempest from this singular novel than from dozens of academic studies. However, the learning and the critical analysis are worn exceptionally lightly, always subordinated to wit, invention, characterisation and slick twists of plot.

Jonathan Bate
The Times
A delight... not only an unputdownable tale of revenge, it is also a masterclass in how to teach Shakespeare to those who think they won't like it
Alice O'Keeffe
The Bookseller
Inventive, heartfelt, and swiftly rendered... Highly recommended.
Library Journal (starred)
Full Review
If The Tempest is Shakespeare's most wondrous play, Atwood's Hag-Seed is, in every way, a wonder... As an adaptation, Hag -Seed is a work of genius... She deftly weaves the language of Shakespeare into her taut and ever shimmering prose, making the lines sing... For Atwood fans new and old, Hag-Seed is sheer delight -- wonderful in every sense

Mona Awad
Globe and Mail
A magical eulogy to Shakespeare... There is so much exuberance and heart and wonder in this novel that the only thing I want to happen next is for Atwood to rewrite the whole of Shakespeare. (No offence, Will.)

Viv Groskop
The Observer