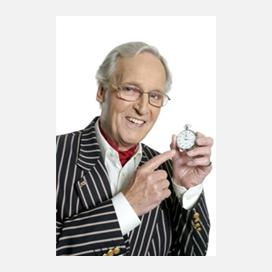 Nicholas


Parsons

Actor, author and broadcaster
Nicholas Parsons was born in Grantham and moved to London with his family at the age of eight. In 1940 he travelled to Glasgow and served a full engineering apprenticeship with a pump firm in the harsh world of Clydeside. His career as an entertainer began with impersonations, and after the war he became a professional actor. He has rarely been unemployed since.
Nicholas has worked in almost every branch of showbusiness, as a serious actor, comedy performer, solo cabaret artist and stand-up comedian. He has performed for over 15 years at the Edinburgh Festival, and was host of the television show Sale of the Century for a record 14 years, but his longest-running professional role has been as the chairman of Just a Minute, which he took on in 1967 and continues to this day.
Hailed as the finest straight man in the business of comedy, he has worked with many of the greats, including ten memorable years with Arthur Haynes, as well as Benny Hill, Tony Hancock, Kenneth Williams, Rik Mayall and Paul Merton.
Nicholas actively supports a number of children's charities, including the Lord's Taverners, of which he was president for two years. He was rector of St Andrews University, from which he holds an honorary degree, and was in 2004 awarded an OBE for his services to drama and broadcasting.