book
| Non-Fiction
| 2013
Britain is the home of the badger - there are more badgers per square kilometre in this country than in any other. And yet many of us have never seen one. They are nocturnal creatures, who vanish into their labyrinthine underground setts at the first hint of a human. Accompanied by the eccentrics and scientists who feed and study badgers, Barkham explores Badgerland; a nocturnal world in which sounds and scents are amplified, and Britain seems a much stranger place, one in which these low slung, snuffling, distinctively striped creatures gambol and dig, and live out their complex social lives.
Patrick Barkham's grandmother won their trust enough to feed and nurse them, and was responsible for a Parliamentary bill that prohibited their slaughter. Today, over 40 years later, the badger is once again set to be culled. Barkham delves into the fascinating natural and rich cultural history of the animal - from their prehistoric arrival in Britain, to their savage persecution over the centuries, to their change of fortunes in the 20th century, when Kenneth Grahame's Badger spurred a growing fondness for them.
Barkham's affection for the stubborn, striped-nose creatures is infectious and Badgerlands cements his reputation as one of our most vivid, witty and curious nature writers.
Rights
Granta manages the translation rights for Badgerlands
Audio Rights
Available
The audio rights are handled by Alice Lutyens.
Media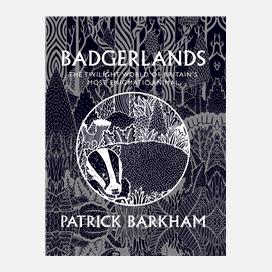 Reviews
A commendably even-handed book, recording the anxiety and despair of people on both sides of the culling debate, and the confused mess of official policy: any attempt to explain to the urban reader the mechanics and emotions of farming in general, and dairy farming in particular, deserves a cheer . . . Anyone interested in the debate should read this book.
Spectator
Hero, villain, icon, enigma, the badger is all these and more as this charming book reveals – a must read for all Britain's naturalists
Chris Packham
Patrick has just joined the nature writers first division.
Simon Barnes
The timeliness of Barkham's book is vital . . . Badgerlands will give generations of interested parties much fascinating information to ponder just as tens of thousands of these tanks of the woods suffer untimely deaths. But the books best passages describe Barkham's nocturnal forays into wild badgerdon - something that readers may find themselves wishing to emulate. Badgerlands are worlds we may all like to inhabit, to get to grips with the mind behind the black-and-white masks of this beguiling, brave denizen of the dusk.
Times Literary Supplement
Among the best [Nature Books of the Year] is Badgerlands ... Patrick Barkham's book is the perfect way to understand what happened. We have ended up killing badgers again, he says, because, as well as the badger lovers, there have always been the haters too. Barkham is one of the lovers, of course, and proves it with some beautiful descriptions of the animals.
Herald Scotland