The Butterfly Isles: A Summer in Search Of Our Emperors and Admirals
Butterflies animate our summers but the 59 butterfly species of the British Isles can be surprisingly elusive. Some bask unseen at the top of trees in London parks; others lurk at the bottom of damp bogs in Scotland. A few survive for months while other ephemeral creatures only fly for three days. Several are virtually extinct. This bewitching book charts Patrick Barkham's quest to find all 59 - from the Adonis Blue to the Dingy Skipper - in one unforgettable summer. Barkham brings alive the extraordinary physical beauty and amusingly diverse character of our butterflies.
He witnesses a swarming invasion of Painted Ladies, experiences the curse of the Purple Emperor, makes a euphoric sighting of an exceedingly rare migrant and as summer draws to a close, suffers from butterfly burnout. He meets some deeply knowledgeable and eccentric butterfly obsessives and reconnects with lovely, overlooked corners of our countryside. As he goes, he looks back at the butterfly collectors of the past and ahead to a future in which many of our butterflies will struggle to survive on an overcrowded and overheating island.
Rights
Granta manages the translation rights for The Butterfly Isles: A Summer in Search Of Our Emperors and Admirals
Media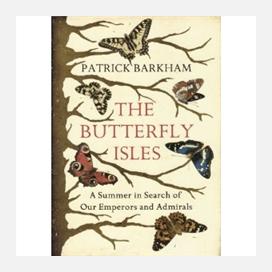 Reviews
A rare delight of a book
Alan Titchmarsh
A delightful book - a bit butterfly-ish itself with magical moments of metamorphosis and exquisite precise detail; informative, lovely and unexpected...this is 'the new nature writing' at its finest
Sara Maitland
This engaging and idiosyncratic account was not written for the experts, of which there have been many... Each reader will find a favourite story or a favourite butterfly here.
Margaret Drabble
The Daily Telegraph Review
Suffused with engaging family anecdote and the genial humour of a patient man, this is amateur nature writing at its happiest
The Times Review
Butterfly hunters dream of Camberwell Beauties or Queen of Spain Fritillaries. These fanatics are collector's collectors, implacable in pursuit. But by the end of Patrick Barkham's charming book you, too, will care about the differences between the Chalkhill Blue and the Silver-studded Blue, and the Skippers will be old friends.
Richard Fortey
Financial Times
Charming, intimate and brimful of interesting facts and anecdotes.
The Herald
Beguiling...Barkham skilfully blends nature writing and memoir.
The Sunday Times