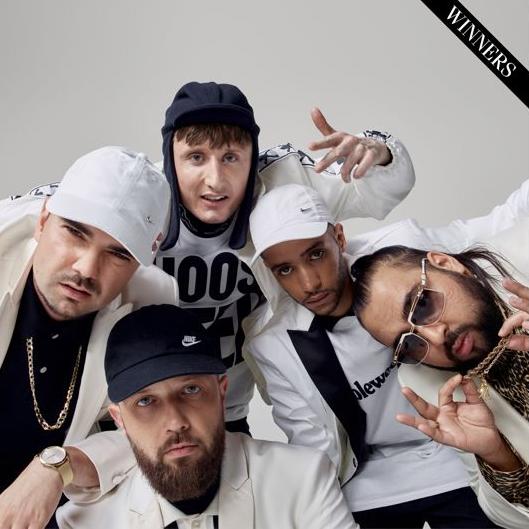 People


Just Do
Nothing

Comedy writing team behind the unique and socially observant award-winning BBC sitcom.

People Just Do Nothing is a unique and socially observant double BAFTA nominated BBC 3 mockumentary sitcom that goes behind the microphone of Kurupt FM, the second most popular pirate radio station in West London, receiving up to eight texts per show and playing the finest in UK garage and drum 'n' bass.
Co-founded by MC Grindah and DJ Beats in 2002, the station has now built up a following of over a hundred people and attracted the attention of the BBC in 2012.
The pilot aired on iPlayer in July 2012 and became the most watched and shared programme during that month. Following this success, a series of four episodes were commissioned, which aired in July 2014 on BBC 3. A second series was commissioned and aired a year later, and series three aired on BBC 2 in 2016. The fourth series is filming.
The series was hugely successful, receiving nominations for Best TV Situation Comedy at the Writer's Guild Awards, Best Scripted Comedy at the 2016 BAFTAs, Best Television Series at the 2017 NME Award, and won two gongs at the Royal Television Society Awards 2017 in the Scripted Comedy category and the Best Scripted Comedy BAFTA in 2017. Kurupt FM also won a GQ Man of the Year award for Garage Act Of The Year 2017.
The show also released a single featuring Ed Sheeran called 'What Do I Know?' to raise money for Red Nose Day and Comic Relief, accompanied by a music video.
In 2019, Kurupt FM announced their return with a brand new podcast. Audible has revealed that 'The Kurupt FM Podkast' will be available to subscribers from this summer and features guest appearances from Lily Brazier, who will reprise her character of Michelle, Celeste Dring and Mark Silcox.

Written by Steve Stamp and Allan Mustafa, with additional material by Hugo Chegwin and Asim Chaudhry. Grindah is played by Allan Mustafa, Beats is played by Hugo Chegwin, Chabuddy G is played by Asim Chaudhry and Steves is played by Steve Stamp. People Just Do Nothing ft. Ed Sheeran Kurupt FM - Suttin Like Dat Official Video People Just Do Nothing ft. Ed Sheeran Kurupt FM - Suttin Like Dat Official Video
See all Videos →