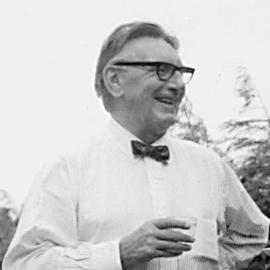 Rex


Warner

Novelist, classicist and poet

1905–1986
Poet and novelist Rex Warner was greatly influenced in his own writing by the classics that he both read and taught. He attended Wadham College, Oxford where he became friends with W H Auden. Upon completing his degree in English and Classics, Warner worked as a schoolteacher while he wrote novels and poetry.

Most of his early novels were allegorical in nature but in his later works he abandoned this style in favor of historical novels, often about the figures he had encountered in the Classics, such as Julius Caesar. His novel Imperial Caesar was awarded the 1960 James Tait Black Memorial Prize for fiction.
Throughout his academic career, Warner was professor at several universities in the USA and also worked for a time as Director of the British Institute in Athens. His translations from the Classics include Euripedes' Medea, Plutarch's Parallel Lives and Xenophon's The Persian Expedition.
Following his retirement from teaching, Warner moved to Oxfordshire where lived until his death in 1986.