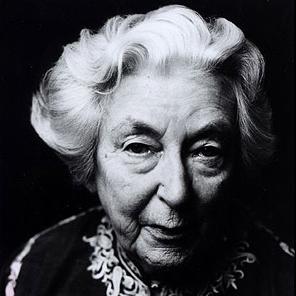 Rumer


Godden

Novelist and short-story writer

1908–1998
Margaret Rumer Godden ('Rumer Godden') was the author of over 60 books, including the bestselling literary novel Black Narcissus, which was made into an award-winning Powell & Pressburger film starring Deborah Kerr, and the children's books The Holly and the Ivy and The Diddakoi.
Although she was born in England, Godden spent much of her childhood and early adult years in Calcutta and Kashmir, beginning to write stories and novels while working as a dance teacher. She continued writing after returning to England in the late 1940s, and Northern India remained a major presence in her work for both adults and children.

Godden was appointed OBE in 1993 and returned to Kashmir once more in 1994 to film a documentary about her life and work. Since her death, her writing continues to be praised for its emotional clarity and 'the startling, frequently funny insights of her misfit heroines' (Guardian).
Selected Fiction
The Lady and the Unicorn (1937)
Black Narcissus (1939)
Breakfast with the Nikolides (1942)
A Fugue in Time (1945)
The River (1946)
Kingfishers Catch Fire (1953)
An Episode of Sparrows (1956)
The Greengage Summer (1958)
China Court: The Hours of a Country House(1961)
The Battle of the Villa Fiorita (1963)
In This House of Brede (1969)
The Peacock Spring (1975)
Five For Sorrow, Ten For Joy (1979)
The Dark Horse (1981)
Thursday's Children (1984)
Coromandel Sea Change (1991)
Memoir
A Time to Dance, No Time to Weep (1987)
A House with Four Rooms (1989)


Children's books
The Doll's House (1947)
The Mousewife (1951)
Mouse House (1952)
The Fairy Doll (1956)

The Story of Holly and Ivy (1958)
Candy Floss (1960)
Miss Happiness and Miss Flower (1961)
Little Plum, the sequel to Miss Happiness and Miss Flower (1963)
The Diddakoi, winner of the Whitbread Award (1972)
Four Dolls (1983)
Listen to the Nightingale (1992)
Thursdays Children (1984)