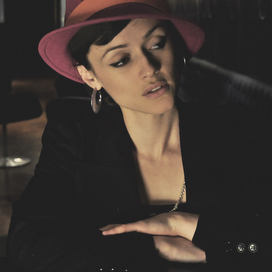 Sabrina recently performed her cross-genre show A History of Water in the Middle East at the Royal Court Theatre and is one of the inaugural writers in residence at Shakespeare's Globe Theatre for 20-21.
Sabrina has recently been called '[one of] our most interesting playwrights' by Lyn Gardner in the Guardian and 'theatrical dynamite' by the Independent. Her theatre work includes
Chef
, a play about an inmate of a woman's prison who is also a haute cuisine chef, which won a Fringe First Award and was nominated for multiple international awards;
Dry Ice
, her first play based on her time working in strip clubs, directed by David Schwimmer and for which she was nominated as Best Solo Performer in The Stage Awards for Acting Excellence;
Clean
, a play about three women who work in the criminal underworld, which won a Herald Angel Award and transferred from Traverse Theatre in Edinburgh to Off-Broadway in 2015.
She also wrote
With a Little Bit of Luck
, a gig theatre piece for Paines Plough with a live UK Garage score about a young woman's coming of age in 2001, which has been performed across the UK, including at the National Theatre and the Roundhouse and was adapted for BBC 1Xtra radio, where it won the 2019 BBC Music & Radio Award for Best Drama.
In television she has working in writers' rooms, and developing original work for House Productions, Moonage Pictures, Little Dot Studios and FX.
Sabrina is the editor of the critically acclaimed anthology
The Things I Would Tell You: British Muslim Women Write
(Saqi Books), a Guardian Book of the Year and is an essay contributor to the multi-award-winning
The Good Immigrant
(Unbound), exploring her mixed heritage through the lens of British fashion. She won the 2018 King's Arts & Culture Alumni Award for inspiring change in the creative industries. Her most recent anthologies are
Smashing It: Working Class Artists on Life, Art and Making It Happen
(Westbourne Press);
Poems for a Green and Blue Planet
(Hachette Children's) and
Sabrina Mahfouz, Plays: 1
(Methuen Bloomsbury).
Theatre
Writer
Director
Sean Holmes/Holly Race Roughan
New theatre based on Ovid's collection of myths, written specifically for the Sam Wanamaker Playhouse. Co-written with Sami Ibrahim and Laura Lomas.
Sabrina also performs in this forthcoming cross-genre
show about the British presence in the Middle East historically and presently.
Director
Chloe Lamford & Isobel Dixon
The Song Project combines the lyrics of 5 Royal Court writers with the music of Dutch musician Wende and composer Isobel Waller-Bridge to create a unique theatrical musical experience.

Music by Wende and Isobel Waller-Bridge
Director
Esther Richardson
A sold out UK tour of this adaptation of Malorie
Blackman's award-winning YA novel received rave reviews from critics and audience members
This playful puppet-based production for young children was based on the true story of Zeraffa, the first Giraffe to travel to France.

Omnibus Theatre/Little Angel
Writer
Co-writer Hollie McNish
Charting the history of women's football in the UK from the 1800s with song, movement and monologue this popular show toured the UK twice and was presented at Wembley Stadium during the FIFA 2019 conference
Well-loved and critically acclaimed show combining UK Garage tracks with a coming of age story toured the UK twice and played to a sold out main space audience at The Roundhouse in 2017
Paines Plough/ Latitude Festival
Chef
Edinburgh Fringe First 2014; The Stage Award for Acting Excellence; Shortlisted for Carol Tambor Award; Holden Street Theatre Award; Brighton Fringe Award for Excellence
Director
Kirsty Patrick Ward
Starring
Jade Anouka
A powerful monologue about a haute cuisine head
chef who ends up running a prison kitchen, originally performed by Jade Anouka
The Stage Award for Acting Excellence / Shortlisted for Carol Tambor Award; Holden Street Theatre Award; Brighton Fringe Award for Excellence and Soho Theatre June 2015
Clean
Herald Angel Award, 2013
A fun, fast-paced play about three criminal women
pulling off the ultimate heist. Transferred to Off-Broadway in 2014
Producer
Made From Scratch Theatre
A real-time duologue set in a fancy East London
brothel
Lyricist
A devised opera with director and choreographer Maria
Koripas, composer Bushra El-Turk and singer Merit Ariane, which played to great acclaim at LSO St Luke's in 2018
Adapted from the novel by Nawal El Saadaw
Royal Opera House/ Snape Maltings
A children's opera written for composer Kate Whitley,
performed at Blackheath Hall with local children in the cast
Radio
Writer
An hour long radio adaptation of Sabrina's play.
Production Company BBC Radio 1Xtra

Production Company Becky Ripley
Broadcaster
BBC Radio 4
Production Company Becky Ripley
Broadcaster
BBC Radio 4
Presenter
Production Company Sally Spurring
Broadcaster
BBC Radio 4