book
| Non-Fiction
| 2014
World English →
Roaring Brook Press
(Ed. Nancy Mercado)
Shane Burcaw started his blog in secret. Two years later, he had over 300,000 people tuning into the funny stories of his daily existence.

Shane Burcaw is your typical 21-year-old wise ass blogger with an enthusiasm for life and all of its bizarre and beautiful moments. The only difference is that Shane was diagnosed with Spinal Muscular Atrophy at age two and has been in a wheelchair his entire life, so his day-to-day looks slightly different than that of your average able-bodied person. Whether it's planning crazy stunts involving his wheelchair and his friends on the basketball court, figuring out how to pee while on the road (which can be difficult when your brother has to maneuver your penis into a pee jar without looking), or instructing a fellow student on the best way to prop his head up in class, Shane offers his own hilarious and unique perspective on life, love and the pursuit of happiness. Be warned: this isn't some depressing story of a plucky disabled teen overcoming the odds, though there are certainly moments of inspiration and odds to be found in these pages. Mostly this is a funny and eye-opening glimpse into the mind of a young man who started a blog several years ago and never expected to have so many people interested in reading the funny daily stories about his experiences. One thing's for sure: you'll never look at life the same way again.
Rights
Roxane Edouard manages the translation rights for Laughing at my Nightmare
Audio Rights
Available
The audio rights are handled by Liz Farrell.
Translation Rights Sold
Norwegian
World
Pantagruel Forlag AS
Media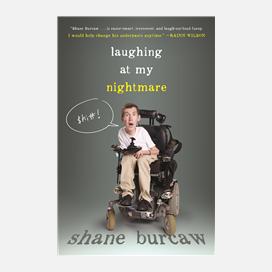 Reviews
Shane Burcaw, a madcap visionary in a wheelchair, has written a courageous coming-of-age memoir. More importantly, what he has written is razor-smart, irreverent and laugh-out-loud funny. I would help change his underpants anytime.
Rainn Wilson
A poignant story that provides a fresh perspective on life.
School Library Journal
Full Review
Engaging, inspirational, and eye-opening.
Publishers Weekly (starred review)
Full Review
Laughing at My Nightmare is an unforgettable memoir.
VOYA (starred)
Full Review
Burcaw's smart, gracious, and funny take on his life is an object lesson in positivity, and this eloquently written and moving memoir would easily find a home in both adult and youth collections.
Booklist
Full Review
With snark, swagger and self-deprecation, Burcaw explains from the beginning how SMA has shaped his mission . . . With reflections camouflaged in wisecracks, Burcaw demonstrates that a little humor goes a long way.

Kirkus Reviews