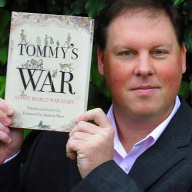 Shaun


Sewell

Antiques dealer and discoverer of lost diaries
Shaun Sewell is an avid antiques dealer whose most famous 'find' was the contents of a shoe box spotted at a house clearance auction. These turned out to be the hand-written and illustrated diaries of Thomas Cairns Livingstone. Captivated by the author's wit and the vivid picture he gave of daily life during the First World War and the two decades that followed, Shaun bought the diaries and later showed them on BBC's Antiques Roadshow. They have since been published in two volumes.
His next rediscovery was the 'real Dad's Army' diaries of Col. Rodney Foster, which, like Livingstone's journals, have won admiring fans.
Shaun lives in Northumberland.
A real pleasure... If you lament the demise of the stiff upper lip, this is the book for you.
Dominic Sandbrook
Evening Standard on The Real Dad's Army