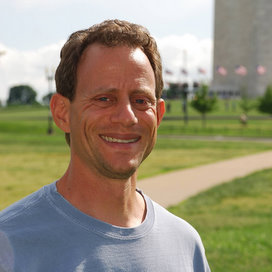 ICM Partners
Stuart Gibbs is the author of four adventure series for middle grade readers: FunJungle, Spy School, Moon Base Alpha and The Last Equation. He has also written the screenplays for movies like See Spot Run and Repli-Kate, worked on a whole bunch of animated films, developed TV shows for Nickelodeon, Disney Channel, ABC, and Fox, and researched capybaras (the world's largest rodents).



This is notable for its unusual setting and features a narrator who displays a realistic mix of wonder at his location and annoyance at having to deal with the Spartan life on another planet. The exposed killer's rationale actually has merit, too.
Booklist
on Space Case
A delightful and brilliantly constructed middle-grade thriller.
Eliot Schrefer
New York Times on Space Case
RT @PoliticsProse: Tuesday, a can't miss with for any fans of espionage - @AuthorStuGibbs and @SarahMlynowski discuss Stuart's latest in th…
Follow @AuthorStuGibbs