book
| Fiction
| Aug 2009
When Kari and Lucas first see Seneca Crane up on stage, playing the piano in front of hundreds of people, they are in awe. She is beautiful. She is amazingly talented. And she is only thirteen! But then they get to know her at the Edinburgh Arts Festival and realize that she envies them. Soon the three are becoming friends . . .until Seneca disappears. There?s no stopping Kari and Lucas from jumping on the trail and tracking her down. Even when it leads to the heart of the Scottish highlands!

Following in the spine-tingling tracks of The Mystery of the Third Lucretia, Susan Runholt's second book featuring super sleuths Kari and Lucas is just as smart and fast-paced as the first!

Rights
Film Rights
Available
Contact Tina Dubois for more information
Audio Rights
Available
The audio rights are handled by Liz Farrell.
Roxane Edouard manages the translation rights for Rescuing Seneca Crane
Media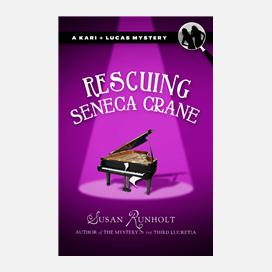 Reviews
Reluctant readers will enjoy the pacing.

School Library Journal
Full Review