book
| Fiction
| 2013
UK & Comm →
Transworld Publishers
(Ed. Jane Lawson, Marianne Velmans)
Mr & Mrs Max Irving request the company of:

Mrs Fran Friedman, mourning her empty nest, her lost baby, the galloping years, and a disastrous haircut.

Mr Saul Friedman, runner of marathons, avoider of conflicts and increasingly distant husband.

The two Misses Friedman, Pip and Katy, one pining over the man she can't have, the other trying to shake off the man she no longer wants.

At the marriage of their son James Irving, forbidden object of inappropriate and troubling desire.

For thirty-six hours of secrets and lies, painted-on-smiles and potential ruin. And drinks, plenty of drinks.

There's nothing like a wedding for stirring up the past. As Fran negotiates her way from Saturday morning to Sunday evening she is forced to confront things she's long thought buried, sending shockwaves through her family, and to make decisions about the future that will have far-reaching consequences for them all.
Rights
Audio Rights
Available
The audio rights are handled by Alice Lutyens.
Melissa Pimentel manages the translation rights for Someone Else's Wedding
Media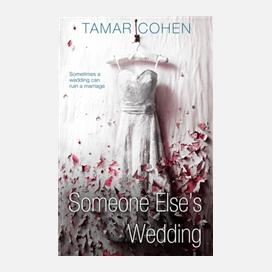 Reviews
Nobody writes 40-something women in crisis as brilliantly as Tamar, she is so perceptive, witty and sharp. All the time I was rooting for Fran and hoping everything would turn out right for her while desperately hoping she would do something shockingly outrageous. The build-up of tension is fantastic and the dissection of a marriage in close-up almost painfully accurate, tender and very funny. I also adored the relationship between Fran and her daughters, it is so beautifully real and moving.
Louise Douglas
There's nothing like a wedding to stir up family conflicts, and this follows the Friedman family as their lives unravel hour by hour at the wedding of a family friend that no one will forget. Secrets are revealed and lives are turned upside down. It's gripping from beginning to end.
Prima magazine
This fast-paced story has the strong characters and believable relationships of a typical modern family. You'll not want to put it down!
Candis magazine
Full Review
Fran and her family attend a friend's wedding, but what's going on between her and the groom?
This summer's best books.
Essentials magazine
A comedy of modern wedding manners that's also gripping, sexy and sad.
Wendy Holden
Daily Mail
Full Review
This cleverly written story was thought-provoking and easy to identity with.
Good Housekeeping
As ever, Cohen combines deft plotting with smart psychological insight. A writer clued up in the darker realms of grown-up relationships.
The i