book
| Fiction
| 2014
UK →
Transworld Publishers
(Ed. Jane Lawson)
Best friends tell you everything; about their kitchen renovation; about their little girl's schooling. How one of them is leaving the other for a younger model. Best friends don't tell lies. They don't take up residence on your couch for weeks. They don't call lawyers. They don't make you choose sides. Best friends don't keep secrets about their past. They don't put you in danger. Best friends don't always stay best friends.
Rights
Film Rights
Available
Contact Alice Lutyens for more information
Melissa Pimentel manages the translation rights for The Broken
Audio Rights
Available
The audio rights are handled by Alice Lutyens.
Translation Rights Sold
Serbian
World
Vulkan Publishing
Media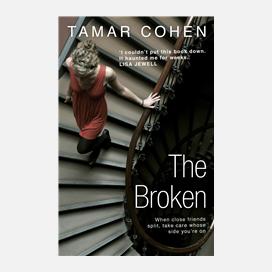 Reviews
When two couples are best friends, what happens when one of them splits up? Soon everyone is taking sides in this gripping cocktail of betrayal and revenge.
Prima Magazine
Watching the collapse of your best friends' marriage, one you thought was divorce-proof, can be very unsettling. Will the ripples from their fallout affect your own relationship? Is it really possible not to take sides? These are the questions at the heart of THE BROKEN when Dan falls in love with another woman and leaves his wife Sasha and their four-year-old daughter.
Essentials Magazine
Dramatic, sad and tense, it's essential you get your hands on this thriller.
Closer Magazine
Full Review
A chillingly brilliant thriller.
Red Magazine