book
| Fiction
| 2011
UK & Comm →
Transworld Publishers
(Ed. Marianne Velmans )
US & Canada →
Simon & Schuster
(Ed. Amber Qureshi)
Please don't be alarmed, but I went to look at your house last night.

I know what you're thinking, that it sounds like something a stalker would do, but I was just passing. No, honestly. I was in the area having a wander around Regent's Park…I thought it couldn't hurt to pop along to your road, just to remind myself where it was.

For five years Sally and Clive were lost in a passionate affair. Now he has dumped her, to devote himself to his wife and family, and Sally is left in freefall.

It starts with a casual stroll past his house, then popping into the brasserie where his son works, then Sally starts following Clive's wife and daughter on Facebook. But that's all right, isn't it? I mean, they are perfectly normal things to do. Aren't they?

Not since Fatal Attraction has the fallout from an illicit affair been exposed in such a sharp, darkly funny and disturbing way: The Mistress's Revenge is a truly exciting fiction debut for reading and sharing with all your friends. After all, who doesn't know a normal, perfectly sane woman who went a little crazy with a broken heart…?
Rights
Melissa Pimentel manages the translation rights for The Mistress's Revenge
Translation Rights Sold
Croatian
World
Mozaik Knjiga
Dutch
World
A W Bruna Uitgevers
English
US & Canada
Simon & Schuster
French
World
Editions Jean Claude Lattes
Indonesian
World
Bentang Pustaka
Lithuanian
World
Alma Littera Publishers
Portuguese
Brazil
Distribuidora Record
Spanish
World
La Esfera de los Libros SA
Media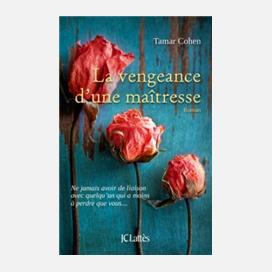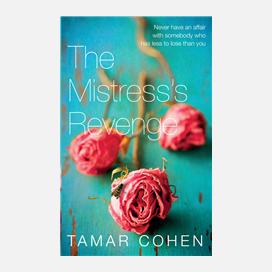 Reviews
Very "Fatal Attraction" with a clever twist at the end. Addictive stuff.
The Bookseller
A riveting and disturbing journey through one woman's rejection, grief, depression and compulsion.
Bitesize ooks
The Mistress's Revenge was absolutely riveting! Superb descriptive narrative and very believable characters...A terrific story!
Chris Bartlett
bookseller
Gasp in recognition at this cracking tale...There's a fabulous twist in the tail.
Grazia
Honest, gripping and well-written.
Essentials Magazine
This book is Fatal Attraction with a twist and will grip you from beginning to end.
Prima
The Mistress's Revenge offers a chilling look at the consequences of infidelity...Sally's journal is narrated with a dark yet witty sense of humor...(which)...will also keep readers hooked...Tamar Cohen's debut novel is a hit!
BookLoons Review
The Mistress's Revenge by Tamar Cohen was another pacy read. A scorned woman indulges in some light internet stalking before descending into full-blown obsession, and there's a clever twist at the end.
Alice O'Keeffe
The Bookseller.com