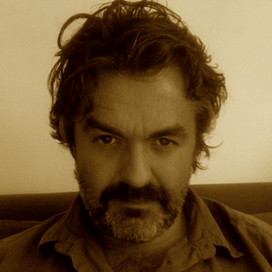 Tom


Butterworth

Writer for film and television
Tom Butterworth is a writer for film and television, who was behind the award-winning Mojo (which he wrote with his brother Jez), and the dark comedy Birthday Girl, starring Nicole Kidman.
Since 2007, he has been writing with Chris Hurford. Together they have written on a number of television series including Ashes to Ashes, and the final two part episode for series 18 of Silent Witness.
They are currently working on the second series of Fortitude for Fifty Fathoms and Sky Atlantic and the major new series Tin Star for Kudos and Sky. They are also developing their original drama The Few, about gangsters in Soho set during the Second World War.
Film
Writer
Director
Christopher N. Rowley
Starring
Joan Collins
Anne-Marie Duff
Sadie Frost
Dominic Monaghan
Adaptation of the book by Georgia Byng co-written with Chris Hurford
Starring
Colin Firth
Ben Kingsley
Kevin McKidd
Feature film based on the Italian novel of the same name
The Weinstein Company
Dino de Laurentiis Company
Starring
Vincent Cassel
Ben Chaplin
Kate Lynn Evans
Mathieu Kassovitz
Feature film about a mail order bride
Starring
Ewan Bremner
Aiden Gillen
Ian Hart
Ricky Tomlinson
Film adaptation of Jez Butterworth's play about a double-dealer who jeopardizes the lives of a 1950s London rock star and his entourage
Starring
Jason Durr
Sean Gallagher
Henry Goodman
Hans Matheson
Starring
Roger Alborough
Linal Haft
Sion Tudor Owen
Tat Whalley
Producer
Tim Bevan and Eric Fellner
Starring
Cillian Murphy
Sienna Miller
Chris O'Dowd
An account of counterculturalist Richard Neville's misadventures in London at the end of the 1960s
Feature film adaptation of the Ken Follett book
Universal Pictures
Dino De Laurentiis Productions
In development
Television
Writer & Creator
Starring
Eleanor Worthington-Cox
David Morrissey
Kelly Reilly
New series co-created with Jez Butterworth set in Britain during the Roman invasion

Original series set during the Blitz and following gangsters in Soho co-created and co-written with Chris Hurford
Writer
Starring
Tim Roth
Genevieve O'Reilly
Abigail Lawrie
Crime series set in a remote mountain town filled with migrant oil workers
Kudos Film and Television
for
Sky Atlantic
Director
Hettie Macdonald
Starring
Richard Dormer
Björn Hlynur Haraldsson
Sienna Guillory
Episode 2 of 12 part drama set in the Arctic.



Fifty Fathoms
for
Sky Atlantic
Producer
Madonna Baptiste
Starring
Emilia Fox
Richard Lintern
David Caves
Liz Carr
Toby Wharton
Co-writing with Chrus Hurford on the crime drama
Director
Hettie Macdonald & Nick Hurran
Starring
Richard Dormer
Christopher Eccleston
Michael Gambon
Sofie Grabol
Stanley Tucci
Episodes 5 & 8 of 12 part drama set in the Arctic.
Tiger Aspect
for
Sky Atlantic
Starring
Emilia Fox
David Caves
Richard Lintern
Liz Carr
Rob Compton
Starring
Andrew Buchan
Polly Dartford
Trixiebell Harrowell
Jack Huston
Historical drama set during the Great Fire of London in 1666
Producer
Philippa Braithwaite
Starring
Eileen Atkins
Caroline Catz
Martin Clunes
John Marquez
Two episodes of the medical comedy drama series
Starring
Adrian Lester
Robert Glenister
Matt Di Angelo
Television drama about a group of con artists
Kudos Film and Television
for
BBC 1
Starring
Nick Frost
Vincent Kartheiser
Emma Pierson
Nathan Stewart-Jarret
Adaptation of Martin Amis' 1980's novel of the same name
BBC Productions
for
BBC 2
Starring
Philip Glennister
Keeley Hawes
British science fiction and police drama series
Kudos Film and Television
for
BBC1
Co-written with Chris Hurford for Armstrong and Miller
Modern adaptation of the Robert Louis Stevenson novel
Modern reworking of Alexandre Dumas' novel
Cliffhanger Productions
In Development
Second series co-created with Jez Butterworth set in Britain during the Roman invasion



Third series co-created with Jez Butterworth set in Britain during the Roman invasion



Vertigo films
In development