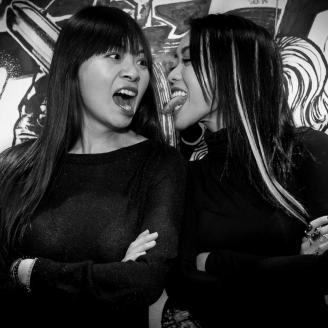 Yennis Cheung & Shin-Fei Chen
Biography
Chen-Cheung Express

This bitchplosion started with Chinese chicas, Chen and Cheung.

Shin-Fei Chen might seem a drunk clown, but this bitch is queen of the witty put-down.

Yennis Cheung observes with X-ray specs, then her writing muscles go full-flex.

They create in an instant, but their words are MSG-free. See?

Together, these Art Hoes use their potent PMS powers to transform stinky stereotypes into whacky comedy
never before seen on TV.

Their comic show "Chinese Burn" is backed by Roughcut TV and commissioned by BBC.
CV
TV
Writer & Performer & Creator
Starring
Yennis Cheung
Shin-Fei Chen
Yuyu Rau
BBC Three 'Comedy Slice' pilot
Roughcut Television
for
BBC Three