Books | Apr 17, 2020
Adam Kay curates new book to raise money for the NHS featuring a host of Original Talent names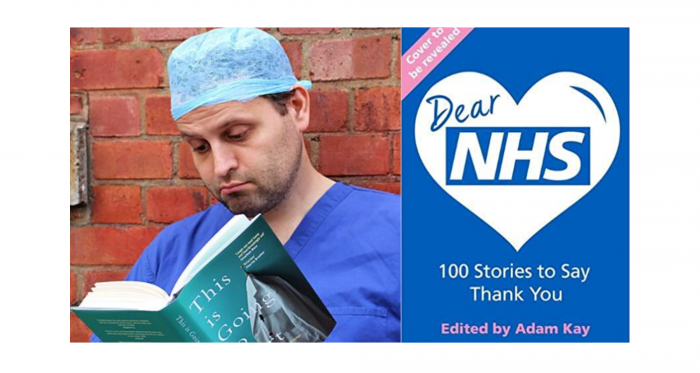 Adam Kay has teamed up with the Orion Publishing Group to curate stories about the NHS from 100 celebrities to help raise money for health service charities.
Amongst those contributing to 'Dear NHS: 100 Stories To Say Thank You', are a wealth of Curtis Brown clients, as well as clients from the entire Original Talent Group (Curtis Brown's parent company), who are all sharing stories 'from the heartfelt to the hilarious'.
The clients taking part include: Dolly Alderton, Monica Ali, Zoe Ball, Johannah Basford, William Boyd, Jilly Cooper, Grace Dent, Victoria Derbyshire, Mark Gatiss, Matt Haig, Victoria Hislop, Konnie Huq, Marina Hyde, Greg James, Marian Keyes, Shappi Khorsandi, Stewart Lee, Catherine Mayer, Caitlin Moran, Jojo Moyes, David Nicholls, John Niven, Sue Perkins, Matthew Syed, Sandi Toksvig, Stanley Tucci, Johnny Vegas and Mark Watson.
Kay - the medic turned writer behind bestselling medical memoir 'This Is Going to Hurt' – said: 'Every single one of us owes so much to the NHS. It is our single greatest achievement as a nation, always there for us, and never more so than now.
'Since this project was conceived barely a week ago, I have been blown away by the number of people who have been in touch to share their amazing stories. I hope that the book, and the money it raises for charity, will in some way manage to say thank you to the heroes who are putting our lives before their own every day.'
The book will be published on 9th July with at least £3 from the sale of each book going to NHS Charities Together and 15p to The Lullaby Trust, which supports parents bereaved of babies and young children.
Anna Valentine, executive publisher of the Orion Publishing Group said: 'In Dear NHS, 100 inspirational people come together to share their stories of how the national health service has been there for them, and changed their lives in the process.
'By turns deeply moving, hilarious, hopeful and impassioned, these stories together become a love letter to the NHS and the 1.5 million people who work within it. It is a privilege to be able to publish a book that gives something back to those who already give so much.'
Place an order for the book here.