Translation Rights | Dec 5, 2018
Anthony Horowitz's Magpie Murders wins Japanese Hayakawa #1 Best Mystery Award 2018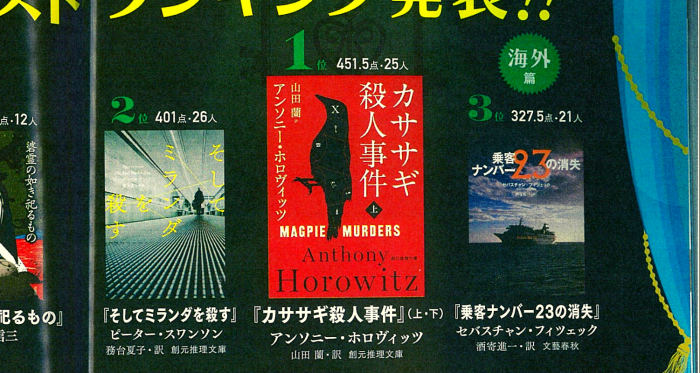 Anthony Horowitz's Magpie Murders has been named the #1 Best Mystery 2018 in Hayakawa Mystery Magazine's yearly guide.
Magpie Murders is a mystery-within-a-mystery, a smart homage to the classic crime novel typified by Agatha Christie and Dorothy Sayers. Susan Ryeland is editing the newest tale by famous fictional novelist Alan Conway, Magpie Murders, when she starts to become convinced there is another story hidden within the pages, of jealousy, greed and murder. When she discovers the ending is missing and starts to dig deeper, she soon becomes the investigator in a real-life murder mystery of her own. ​
The Observer hailed Magpie Murders as "...a fiendishly plotted crime novel, with a fabulous twist." The book is a Sunday Times Bestseller.
In the announcement on the win, the translator, Ms. Ran Yamada, expressed her excitement when first reading the novel, saying "How could such a great mystery have come to me?" and discussed her decision to carry out a translation as close to the original as possible in order to introduce the work to Japanese readers and give them a fuller appreciation of it. The Japanese editor, Mr. Takashi Kuwano, described the work as a "masterpiece".
Magpie Murders was first published in October 2016 by Orion Publishing Group in the UK and HarperCollins in the US and Canada. It has been translated into 10 languages worldwide, and is published in Japanese by Tokyo Sogensha.