Books | Jul 16, 2020
Bestseller Success – Dear NHS and Deliciously Ella go straight in at Number 1 spots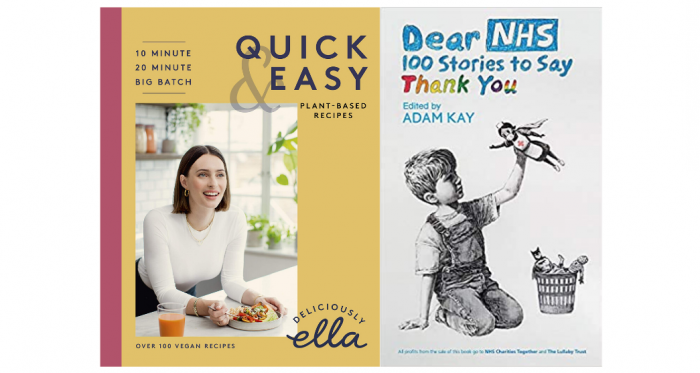 Both Quick & Easy, the new cookbook by Deliciously Ella, and Dear NHS, edited by Adam Kay, sailed into Sunday Times Number 1 spots in their first week of release. Dear NHS sits at the top of the Hardback Non-Fiction chart whilst Deliciously Ella takes the Sunday Times Manual top spot.

Curated and edited by Adam Kay (author of multi-million bestseller This is Going to Hurt), Dear NHS features 100 household names telling their personal stories of the health service and features a host of contributions from fantastic talent within the Original Talent Family. All profits from the book will go to NHS Charities Together to fund vital research and projects, and The Lullaby Trust which supports parents bereaved of babies and young children.
Quick & Easy features 100 all-new plant-based recipes by bestselling author Ella Mills, founder of Deliciously Ella, who shows us that vegan cooking doesn't have to be difficult or time-consuming.
Alongside the top spots it has been an unprecedented week for Curtis Brown authors in the rest of the Sunday Times charts with 12 titles featuring in all.
Staying at the top of the Hardback Non-Fiction chart at Number 4 is Denise Welch with The Unwelcome Visitor. Newly released in paperback, the international bestseller Three Women by Lisa Taddeo is at Number 3 in the Non-Fiction Paperback charts, with Lady Anne Glenconner going strong at Number 5 with Lady in Waiting, and Adam Kay's best-seller This Is Going To Hurt is back in the charts at Number 8, meaning once again he has two titles simultaneously in the Sunday Times charts.
The Hardback Fiction chart sees new releases from S.J.Parris and Santa Motefiore with Execution at Number 3 and Here and Now at Number 4, respectively.
Booker Prize winner Bernardine Evaristo remains in the Number 1 spot in the Fiction Paperback chart with Girl, Woman, Other and Santa Montefiore's The Secret Hours sits at Number 4 meaning she too enjoys a double success this week with titles charting in both hardback and paperback. Jane Fallon's Queen Bee is another new release in paperback this week, going straight into the Number 6 spot.
Finally in the Children's chart, Matthew Syed remains in the top ten with You Are Awesome, currently at Number 9.
Huge congratulations to all our authors, a truly fantastic week in the charts!