Translation Rights
Books of the Year Roundup
Dec 7, 2017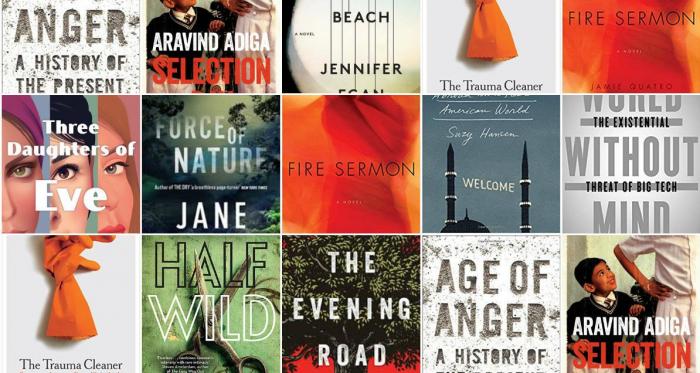 Following from the major UK papers' books of the year round ups, more publications such as the Australian Book Review, Elle and the Financial Times have released their picks of the years best books. The New York Times released its selection of the most notable books earlier this month, featuring Man Booker Prize winning author Aravind Adigar, as well as Suzy Hansen and Franklin Foer.
Australian Book Review, one of Australia's leading independent cultural magazines, published their list of the year's best books. Age of Anger by Pankaj Mishra and Half Wild by Pip Smith were featured. As was Sarah Krasnostein's The Trauma Cleaner which was described as 'the startling life story of Pankhurst, a trans woman with a heart the size of Uluru, written in Krasnostein's irresistibly warm, frank, intelligent voice as she describes sites of sadness and horror that take the reader straight to the dark heart of the human condition.'
Featuring in the FT fiction books of the year were Laird Hunt's The Evening Road and Jennifer Egan's latest novel Manhattan Beach which has sold in 23 languages.
Elle have announced their 19 Best Books to Read This Winter featuring Jane Harper's latest novel Force of Nature, Three Daughters of Eve by Elif Shafak, and the Fire Sermon by Jamie Quatro.
Kirkus also released their list of the years best titles focusing on a number of genres. Featured in their best fictions picks were The Locals by Jonathan Dee, Manhattan Beach by Jennifer Egan, and Rich People Problems by Kevin Kwan. For non-fiction Love and Trouble by Claire Dederer and Leonardo da Vinci by Walter Isaacson, were featured. Little & Lion by Brandy Colbert was among the Best Young adult picks.
Crimetime have consulted the critics to get their picks to the year's best crime novels. It's an impressive list featuring A Legacy of Spies by John le Carre, IQ by Joe Ide, The Word is Murder and Magpie Murders by Anthony Horowitz, All the Wicked Girls by Chris Whitaker, The Dry by Jane Harper, and Dangerous Crossing by Rachel Rhys.